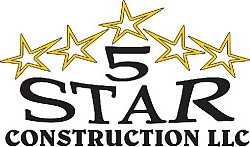 5 Star Construction
5 Star Construction

Main Services:

Window Installation/Replacement, Door Installation/Replacement, Siding, Roofing, Guttering, Deck Installation, Remodeling

In Business Since:

2007

Awards:

Angie's List Honor Roll & Angie's List Preffered business

Company Overview:

At 5 Star Construction, (816) 876-8143 quality means everything. With a combined 20 years of construction experience, the 5 brothers, Keith, Clinton, Michael, and James decided to start their own construction business. 5 Star Construction has been servicing the Kansas City area for the last 5 years. With a vast array or products and services, 5 Star has built a reputation on quality and exceptional customer service.
Between the 5 brothers, the knowledge of home improvement services is immense. If you don't see what you need on the list above just contact 5 Star here, chances are they can do it!
Reviews By Customers
Review by: Paula Thurman
Work Description: new window installation
Comments: Wes & Keith arrived on time. Installed windows in the time estimated. answered all questions and cleaned up. I will use this company again in the future.
Review by: Jan Henson
Work Description: installation of 12 windows and 1 storm door
Comments: The installers were professional and knowledgeable
Review by: Gary Blanck
Work Description: Entry door and screen door installation
Comments: The first install date was rescheduled due to the weather. I received a call that morning and reset the installation for the following week. The installation went fine.
Review by: Tim Preston
Work Description: window installation
Comments: work went great. I will be using them again in the near future.
Review by: Gary Paul
Work Description: 8 windows installed, was real happy with windows and installation
Comments: was happy with the work and windows, very very pleased overall.
Review by: Richard Martin
Work Description: New Pella Windows (fiberglass) throughout entire house in 2 days.
Comments: Got there on time, was professional and talked / participated in pleasant conversation. Workmanship was great!
Review by: Ray Harris
Work Description: replaced 11 windows
Comments: Install was performed in a timely manner and they answered all my questions.