`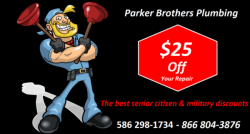 Parker Brothers Plumbing
Parker Brothers Plumbing

License:

8109606

Main Services:

Plumbing and Clogged Drains

Years In Business:

1992

Company Overview:

Parker Brothers Plumbing is a family owned and operated business. We have over 23 years of experience in helping our local Michigan residents. Our plumbers do all kinds of plumbing repairs, from the minor ones to the major ones.we offer the best rates, and senior citizen and military discounts, We are available 24 hours a day, 7 days a week to service all of your plumbing needs, and we can usually be on a job within 60 minutes to serve you quickly.

Visit us on the web at www.plumbing-help.com to view and print coupons for your service calls.
Reviews By Customers
Review by: Margo Tobey from Utica MI
Work Description: They provided a new well pump and sump pump.
Comments: Very polite and helpful. Did what it took to provide the equipment.
Review by: Betty Jackson from Detroit MI
Work Description: Pipe frozen in kitchen under in wall.
Comments: They stopped water replaced pipe and everything is okay
Review by: angela kelly from New Haven MI
Work Description: Remove old bathtub and install new bathtub. haul away old bathtub.
Comments: I got a call from Parker Brothers less than 60 seconds after hitting the send button online. They told us what we needed and had our job scheduled in less than a week. They were on time and did a great job removing and installing our tub If I had a recommendation for them it would be to 1) tell customers they have to remove the drywall (sorry - we didn't know) and my husband put up the replacement drywall - DEEP sigh - this is NOT his area of expertise. 2) use a little care around the walls outside of the tub when removing the old one (we have to repair a few areas) even though we are getting new surround on Friday. Overall I'm extremely pleased with this work. I had two contractors, including a Home Depot contractor, schedule appointments and not show up or call. The other NO SHOW was Cut-Rate Plumbing.
Review by: Vanessa Wilson
Work Description: Replaced Kitchen Faucets Replaced bathroom vanity faucets Unclogged bathtub
Comments: Highly competent Worked incredibly quickly Will use again
Review by: Bertha Smith from Clinton Township MI
Work Description: Excessive condensation around pipes causing water accumulation and damage.
Comments: I talked to Rob and Darrell shortly after my request. Their goal obviously was to help me and they did. We are still assessing the situation. But, I believe we will request their services many times in the years to come. They were very flexible in that they were going to come right out, then I had to cancel last minute. Then I called the next day and they gladly came right out. I am so happy to have found a good plumber and it was so easy for me. Thank you very much. I'll be in touch very soon.
Review by: William Bailey
Work Description: Unclogged drain pipe for kitchen sink.
Comments: Plumbers were polite and did a fine job. Were upfront on the price and stood firm even though it took a bit more work then first assumed.
Review by: Kim Ackerly from Sterling Heights MI
Work Description: New sump pump
Comments: Did awesome work in a short amount of time for a fair price.
Review by: John Paulun from Saint Clair MI
Review by: Katherine Markey from Allen Park MI
Work Description: un plug roof top vent
Comments: was just about to give up waiting then some Darrell and his co worker shoed up. We had to borrow our neighbors ladder to get the job done,it got done. Rob was who I talked to,but was held up on another job per darrell. no more smell in house and drains run faster. Thanks Guys
Review by: Steve
Work Description: Replaced ball cock in water closet
Comments: I received a phone call less than one minute after sending my request! Daryll showed up in less than an hour, and a did a fast and quality installation. I will gladly recommend the Parker Brothers!
Review by: Jim Reich
Work Description: Had a flooded basement over the weekend
Comments: I called Parker Brothers on Saturday morning explaining that I had a flooded basement. They were there within 1 1/2 hrs and drained the main drain. The cost was very reasonable given the fact that it was an emergency. I would recommend them again.
Review by: PAT SWITZER from Harrison Township MI
Work Description: PARKER'S PLUMBERS REPAIRED A LEAKING PIPE IN MY LAUNDRYROOM.
Comments: THEY WERE PROFESSIONAL, HERE WITHIN AN HOUR AND A HALF, AND COMPLETED THE WORK QUICKLY. I WILL BE RECOMMENDING THEM TO FRIENDS AND FAMILY !
Review by: Peter Brueckner from Saint Clair Shores MI
Work Description: sump pump was running continuously but no water coming out. Possible air lock or debris clocking pipe. Got it running again
Comments: Called me within minutes of online request for contractors. Was here within an hour. Did the work quickly and courtesly. Good Job!
Review by: Paul Etenhoffer from Waterford MI
Review by: Edna Barnes
Work Description: Plumbing work
Comments: thank you for the work you did
Review by: James
Work Description: water heater and clogged drains
Comments: good work fair prices
Review by: Mike Whalen from Eastpointe MI
Work Description: Snake the old. Replace a network of pipes that the plumber thought caused the problems that were occurring.
Comments: Over time it will be obvious as to the final results, but currently there is no way to confidently say as to how productive the whole thing was to solve the problems that were there.
Review by: ROGER LEE from Clinton Township MI
Work Description: hooked up firepace
Comments: good work
Review by: carole from Farmington MI
Work Description: replaced a gasket ten minutes of work and charge 475 dollars.
Comments: I am a senior, this guy tricked me into signing a contract, refused free estimate, said pipes were in the floor and would have to break out floor. He said he was giving me a great deal to fix it.. After I signed paper he reached into walk fixed a gasket and demanded 475 dollars. I am reporting to better business bureau and filing civil charges.
Review by: Bill Rozek from Brighton MI
Review by: Kevin Dinger from West Bloomfield MI
Work Description: Installed unions on underground sprinkler system.
Review by: RAJIV AGRAWALA from Warren MI
Work Description: Remove existing toilet, install new toilet. Toilet & hardware provided by owner
Review by: landia eadeh from Livonia MI
Work Description: fixed 2 toliets (flappers & new system) capped a dryer gas line looked at a leak - cut open ceiling
Review by: Bernie Wesol from Troy MI
Work Description: Replane and install new hot water heater
Comments: Daryll was very professional and the quality of the work was excellent
Review by: lisa Dunn from Farmington MI
Work Description: replace a new hot water heater and piping
Review by: Sandy Young
Work Description: some plumbing repairs
Comments: They did a great job and I do refer these guys to all my friends and they love them as well. Thank you boys and keep up the good work.
Review by: diane wilson
Work Description: a lot of plumbing repairs
Comments: these guys did a great job and i will always recommend parker brothers plumbing to all my friends.