`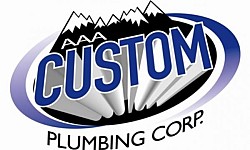 AAA Custom Plumbing
AAA Custom Plumbing

License:

A171719

Company Overview:

Got a plumbing problem? Our plumbers have been actively serving Denver since 1978! Our plumbers are radio dispatched to arrive quickly at your residence so that your plumbing problem can be fixed as quickly as possible. We continuously work to make sure our customers walk away from us happy and satisfied, and we want you to join the pack! Come on! Contact us and see how quickly we can make your plumbing problems history!
Reviews By Customers
Review by: Nancy Dykstra from Denver CO
Work Description: Repaired the floor under water heater. Applied and new pan under water heater and relaced the lines with copper tubing. Excelent workmanship.
Review by: Mary Lovell from Lakewood CO
Work Description: showee leak and new toilet installs
Comments: Very good work. Very professional.
Review by: Mary L
Work Description: leaking shower and updating toilets
Comments: I love this company. I felt that I was in good hands. Their number will be on our list to call for any other future work that might be needed.
Review by: jun huang from Lakewood CO