Tomato prices and sustainable food movement encourage homegrown food
Posted by Hometalk

|

Apr 14, 2010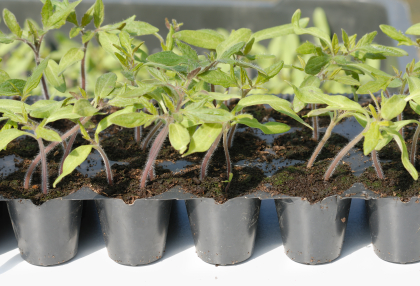 Donny Stanley, co-owner of S&H Feed and Garden Supply in Swansboro, N.C., told the Jacksonville Daily News he is seeing many first-time vegetable gardeners in his store. Experts point to several factors in the increase in vegetable growers.
Produce prices increased
Everyone is looking for deals during the continuing economic slump. Stanley's experience points to a third year of increasing garden-product sales. A tomato plant may be the same price as a pound of tomatoes (and a packet of seeds may be far cheaper) at the grocery store, but it produces fruit all season.
Tomatoes and peppers in particular may far outstrip the price of seeds this year. A Florida chill has increased tomato prices by 25 to 50 percent over last spring. Meanwhile, pepper prices have more than doubled in many areas.
Thawing out after a cold winter
Federal data shows this was the fifth warmest winter on record, but large snowstorms might suggest otherwise. A string of heavy storms and cold weather covered my northern Colorado yard in snow from November to March, which is unusual in this normally temperate area. Stanley said many new customers feel cooped up and want an excuse to be out in the sunshine.
The Michelle and Michael effect
Michael Pollan and Michelle Obama also are inspiring budding gardeners with popular books and a high-profile veggie patch.
Pollan has three books in the top 20 on New York Times bestsellers' list. "The Omnivore's Dilemma" has sat on the list for 130 weeks. His writings focus on the sources and contents of food that is not homegrown, and he argues for more healthy, local and sustainable "real food."
He also features prominently in the Oscar-nominated "Food, Inc." The movie grossed more than $4.4 million through November 2009. That translates to a lot of viewers seeing the dark side of "food products" and the American food industry.
Michelle Obama's White House vegetable garden inspired many planting newbies. This month, elementary school students helped Obama start her second vegetable garden. She said the garden fed many families last year and furthered the national conversation about healthy, sustainable eating.
Taste the best, can't eat the rest
Finally, it may simply come down to flavor. Tomatoes have long been a favorite of home gardeners. Many wonderful varieties of heirlooms and unusual varieties are readily available, and taste much better than the standard store-bought types.
I no longer even buy fresh tomatoes during the off-season. They seem tasteless compared to the summer bounty.
For help with a vegetable garden, find your local cooperative extension office or chat with the experts at a local nursery or garden store.
Posted by: Steve Graham