The Craigslist economy: Remodeling in the odd world of online classifieds
Posted by Hometalk

|

May 03, 2010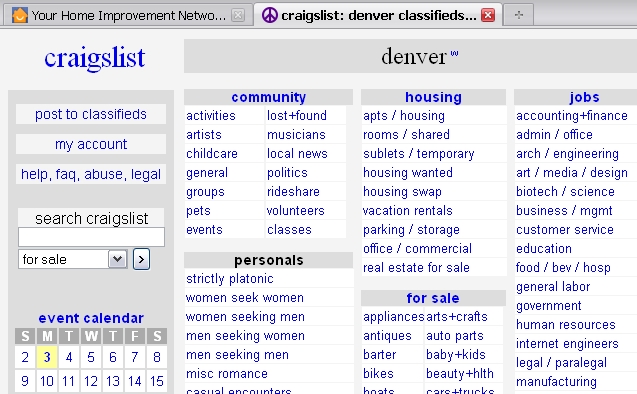 Where did people find free fill dirt and horse manure before Craigslist? And how did a guy with a spare motorcycle and an unfinished basement find a guy who could hang drywall in exchange for new wheels?
I use Craigslist nearly every day - to find freelance writing work; to pick up household stuff and materials for my constant backlog of remodeling and landscaping projects; and often just for entertainment. The barter section is a glimpse into a weird and wonderful underground economy, and the sales pages can leave you shaking your head. Here are some recent off-kilter remodeling-related listings on Craigslist.
Only in Boston

Here in Colorado, it would take a lot of Rockies tickets to get some new granite in your kitchen. On the other hand, this person is probably not alone in setting a pretty high barter value on Red Sox tickets.
"Have Green Monster Tickets for Summer Weekend Games. Looking to update my kitchen counter tops with granite. Anyone want to trade?"
Build my crowns, I'll build your walls

This guy should move to Nevada and campaign for Sue Lowden, who recently suggested that Americans could barter for health care.
"Trade expert remodeling/building skills for dentistry: I need 4 crowns at a minium. I've been in business for over 20 years with over 30 years construction experience. I'm insured and have references."
Mystery furniture

If I lived in Austin I might swing by just to see what this free furniture listing is trying to describe.
"4 large wooden triangles. I bought them from Goodwill years ago. They are light colored particleboard. They are 3 dimensional and hollowed out on the inside. Imagine the top of the triangle is a piece of wood that is about 2 x 2 x 3, and each one is about a foot in width. I used one on top of another as side tables next to the couch."
Win-win-win

This person is trying to sell a drill for $50, and the sale might also help make up for hours of waiting for the cable guy.
"OK, I have a working Makita 8390D (cordless hammer drill for wood/steel/masonry) that a guy left at my house while installing our cable. Numerous calls to his employer and they, seemingly, would be more interested in getting back to their busy schedules than getting this drill back, so why not get this to someone who needs a cordless drill, as I already have one."
Surprising himself

This guy seemed to be in disbelief the whole time he was writing up this ad. As he notes, somebody seems to be giving away broken concrete every day in every city on Craigslist.
"Really? Do people want to come haul off your busted up old patio?
I was surprised to see an ad to that effect, but if you're out there... I'm about to have a whole lot of flagstone/pinkish concrete available. It will start being busted up by a contractor Monday and be a good two truck loads. If you want to join the wheelbarrow brigade and have it tossed into your own truck, let me know, I'll run it by the contractor."
Underground economy
The spread of legalized medical marijuana (MMJ) has made for some creative barter offers.
"54-year-old Marine with many skills and references can assist you with anything legal in trade for Quality MMJ and/or $15 per hour. ... Decent Mechanic with a lot of tools."
Nice work, and you can get it

Finally, Craigslist sometimes offers glimmers of economic recovery hope. While much of the remodeling and construction industry continues to struggle, this Denver company has more work than it can handle.

"Busy kitchen and bath design center seeks kitchen designer with min. 3 yrs. kitchen design and sales exp. ... We have a back-log of jobs, clients and leads begin working on immediately. Email letter of interest and resume to Manager."
Posted by: Steve Graham
Photo credit: Craigslist