The Best of the Blogosphere: Thanksgiving Home Decor
Posted by Hometalk

|

Nov 19, 2009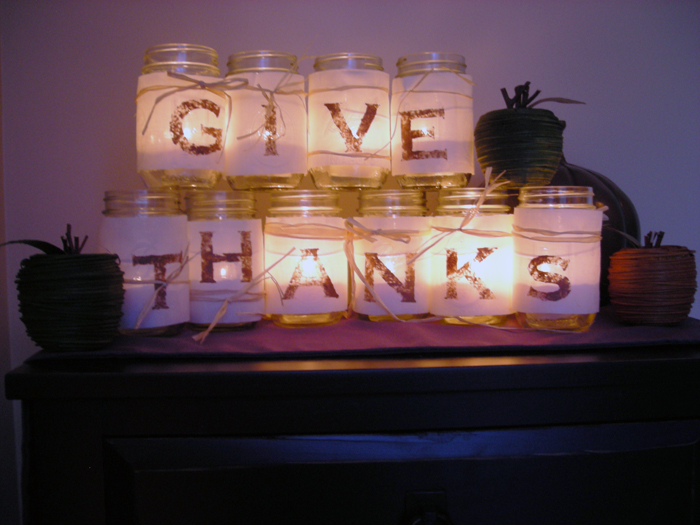 Thanksgiving is just one week away. It's not too late to add some Thanksgiving home decor to your home. There are some great ideas out there in the blogosphere: Thanksgiving themed mantels, wreaths, table dcor and much more. Personally, I love all crafty, DIY kinds of Thanksgiving projects - I get inspired by other's creativity very easily and there is something special about handmade crafts on Thanksgiving. So, today's blog is dedicated to all you amazing crafty people out there who enjoy making a house into a home with beautiful handmade projects.
The Best of the Blogs:
1. Newlywoodwards - Besides for being one of my favorite blogs, Kim over at Newlywoodwoodwards.blogspot.com has really gotten me glued to her blog by hosting a "Dare to Do it Yourself" Blog Party. Other bloggers have been invited to participate in DIY projects which they post on their blogs. Kim's "Dare to be Thankful" post this past Sunday is full of links to some really creative and inspiring Thanksgiving projects. Make some time this year and try one of these projects. They can add so much warmth to your home. My favorites include: Allison and Jared's super cheap and easy door hanging, Brick City Love's upcycled wood display (a truly amazing project in which bloggers Carrie & Rob use wood from their old fence to create an amazing keepsake), and Domestic Adventure's give thanks candle jars. Check out Kim's blog, you're sure to get addicted!
2. Young House Love - We've said it many times before - We love John and Sherry over at Young House Love! They so deserve a shout out for their cork-themed Thanksgiving table dcor ideas.
3. Imagine - Jami Goldsmith - Every Wednesday Jami posts recipes for delicious drinks as part of her "Wednesday Weekend Warmup" blog series. Each week, I wait to see what delicious drink she'll post next. Check out her post with a recipe for Pumpkin Martinis. These drinks are so pretty. They will add awesome color to your Thanksgiving table.
We'd love to hear about your Thanksgiving dcor ideas, so let us know what you're up to this year.
Posted by: Marcy Tate
Photo credits: Domesticadventure.com.