Networx Tests Freezer Compost Bin
Posted by Cris Carl

|

Oct 21, 2010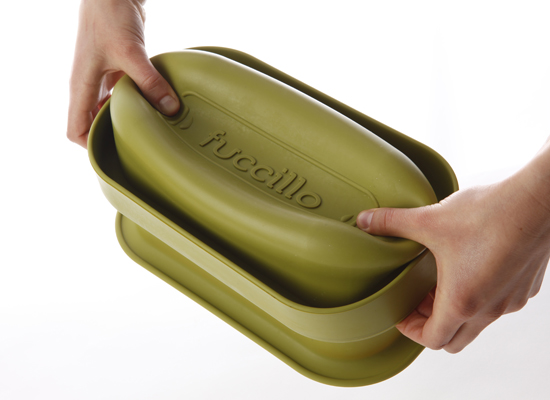 Freezing your compost is not a new idea. People have been using a variety of plastic containers, such as large yogurt containers, to make freezer compost for some time. Essentially, the reasoning for freezing compost is to eliminate smells, fruit flies, and that left-over (often foul) residue at the bottom of the container.
However, a new product, The Bin, created by Fuccillio Studio takes freezing compost to a new level. There were plenty of things to like about The Bin, from the clever ergonomic design to the nifty material used to produce the product. I especially liked the company philosophy, "Fuccillio aims to please without hurting anyone else or the environment…" reads their website.
The Bin is made from the glass-like substance, silicone (not to be confused with silicon). Silicone is derived from quartz and other rocks and is a non-toxic substance. The material used for The Bin is food-grade. The Bin is unbreakable, dishwasher-safe, and you can expect it to last for 50 years. The Bin is 11"x 6"x 6" and holds 3.5 liters or one gallon. The product was design to fit easily in any type of freezer whether, top, bottom, or side freezers.
And for those who care about such things, The Bin comes in four colors and is more attractive sitting on your counter than an old tahini bucket (which is what I use). Indeed, the product is billed as "sophisticated design for sustainable living." The product has been featured in numerous articles and will be featured in Martha Stewart Living in November and Simple Living Magazine in January of 2011.
The Bin has a pop-out bottom, so all you need to do is fill the bin with your organic waste, put the whole thing in the freezer, and pop out the frozen cube for disposal wherever you deposit your compost material. One of the considerations the company makes is The Bin has no need for the use of any kind of container liner – therefore saving on costs and less environmentally-friendly waste.
The Bin is made for urban or condo dwellers that have to cart their compost perhaps through a building, down an elevator, and off to wherever they deposit their compost. Those of us who are able to have our compost bin right outside our back door, can simply empty our inside bins as often as needed to avoid odors and fruit flies.
I have to admit I couldn't get past the price of $60 per bin. I think this product could really work for some people, but a container of food waste in the freezer doesn't improve with a fancier container. The truth is, if you have a problem with odors and/or fruit flies, and you want to freeze your compost, any plastic container will do. If you let the container of frozen compost sit out for a few minutes, it too will slide out easily.
The Bin became available in August of 2010 and has been available at select stores and online. In November the product will have a wider release to retail stores in the United States and Canada.
My final take on The Bin is, if the product is appealing enough for some to buy and actually use, then more people may feel inclined to compost.