It's belt sander racing season
Posted by Hometalk

|

Jun 03, 2010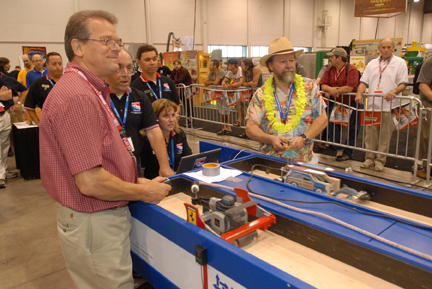 I remember the first time I used a belt sander. I thought I had a solid grip on the tool, but it still got ahead of me and sped across the board I was trying to sand. At some point, a brave or bored tinkerer must have fully released a belt sander and realized it could zip across the shop unassisted. That person told some other people, and now all those folks compete in belt sander races around the world. They build long, skinny wooden tracks with deep guardrails (think of a long bowling alley with the bumpers in place), and race the belt sanders on parallel tracks. At some events, a plexiglass shield over the track also protects spectators from a runaway sander.

It doesn't take much to turn a belt sander into a slot racer. In fact, the Belt Sander Racing Association and other organizations (yes, there are several belt sander racing groups) are fairly strict. In the basic stock class, dragsters must run on standard 110-volt power and use factory stock sanding belts (word on the track is that fine grit goes faster). The only functional addition is typically a guiding mechanism to help keep the sander rolling straight.

Some organizations also have a modified stock racing class, which allows more changes, such as taking off the belt and adding wheels. These modified racers can blast down a 75-foot track in three seconds, giving new meaning to "eat my dust."

Major aesthetic modifications are expected in all classes. Belt sander races are equal parts car show and speed competition. While many racers mount model car frames to the belt sander, other winning dragsters include an homage to Hello Kitty, a land shark and a Bratz-mobile.

The BSRA has several West Coast racing events in June and July, starting with a June 18 meet in Anaheim. It's not too late to glue toys to your belt sander and get on the track. Gentlemen (and ladies), start your sanders.

Photo credit: Accuride International

Posted by: Steve Graham