How to Get Rid of Carpet Indentations
Posted by Shira Beth

|

Feb 21, 2010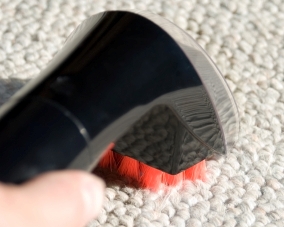 When you go to rearrange your furniture and find ugly indentations on the carpet, you don't have to live with them. There are a few tricks to getting the pile back to normal (though you may need to go over it a few times).

Ice cubes: Put an ice cube or two (whole or crushed) on the indented spot and wait for the ice to melt. Once it's absorbed into the carpet, rub it with a towel, a pet grooming brush or a carpet brush to get the fibers vertical.

Steam: Heat up your iron and hold it above the indentation. Press the steam button, and keeping shooting steam at the carpet until the pile picks back up. Be careful not to touch the iron to the carpet, though, since it will burn. To be safe, you can put a damp towel over the spot while you steam and then you don't need to worry about putting the iron down.

Blow dryer: Instead of using an iron, you can create steam by wetting the carpet and then aiming a blow dryer at the damp area, working the carpet back to its old shape with your fingers or a pet comb.

Let us know if these tricks work for you!