Eco-Tuesday: Something from Nothing - The Networx Guide to Thanksgiving Repurposing
Posted by Hometalk

|

Nov 24, 2009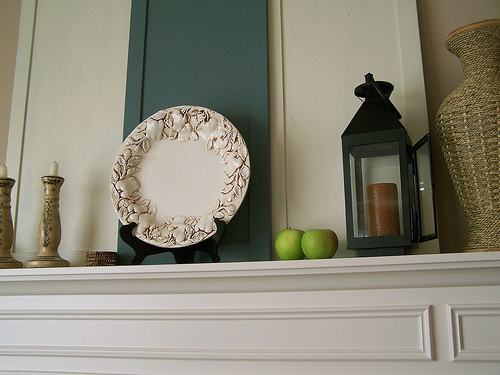 One of my family's favorite children's books is "Something from Nothing" by Phoebe Gilman. The story is about the repurposing of little boy Joseph's baby blanket. Joseph's grandfather is the one who gave him this special blanket and the one who keeps repurposing it for him. The blanket is repurposed from blanket to jacket, to vest, to a tie. Eventually, there is only enough material to make a button. I love this book because it's a great lesson for my children, and myself about repurposing. Each time after we read it, my children and I think of ideas together on how we can repurpose some of their old toys or clothing. My kids come up with great ideas. My seven year old made a charity collection box from an old shoe box. Each week he puts some of his allowance in the box.
It can sometimes be a challenge when it comes to re-purposing items for household use. Some simple ideas that you can incorporate into your Thanksgiving décor are using water pitchers as vases. Another idea is using washed out wine bottles as water bottles. Sherry and John from Young House Love used empty wine bottles to serve drinks at their wedding, so why not go for it at your Thanksgiving meal?
Here are some other ways you can repurpose this Thanksgiving:
Carcass Repurposing
What do you do after all that turkey has been carved away from the turkey carcass? I would say that many people throw out the carcass. Why not repurpose it and use it to make a delicious turkey soup? My mom does this after each Thanksgiving, and while it sounds a bit gross, it truly makes for an amazing soup. Simply place the turkey carcass in a large pot with the vegetables and herbs of your choice (carrots, zucchini, celery, onion, parsley, potatoes, etc.). Then, cover it all with water, and add some salt and pepper. Bring it all to a boil and then simmer it on a low flame for about an hour.
Clothespins and Napkin Rings
I read about this great idea at KimVallee.com. Simply use clothespins as casual napkin rings as they do at Bistro Chez Roger in Montreal. This way, you won't be stuck with a bunch of napkin rings that you'll only use once a year.
Hide Imperfections
If you've got the relatives coming over for Thanksgiving, then you may want to hide some of those little imperfections around your home. Melissa at The Inspired Room did just that by repurposing a kitchen cabinet door to hide a hole in the wall above her fireplace. She did an awesome job; what a great idea. Check out the pictures here.
CD's and DVD's Into Coasters
When all the guests are over, protect your furniture by using coasters. Turning old CD's and DVD's into coasters can be a really fun family project. You can even decorate them with a Thanksgiving theme.
Posted by: Marcy Tate
Photo credits:Theinspiredroom.netKimVallee.com