My Natura Cleaning Routine
Posted by Hometalk

|

Oct 27, 2009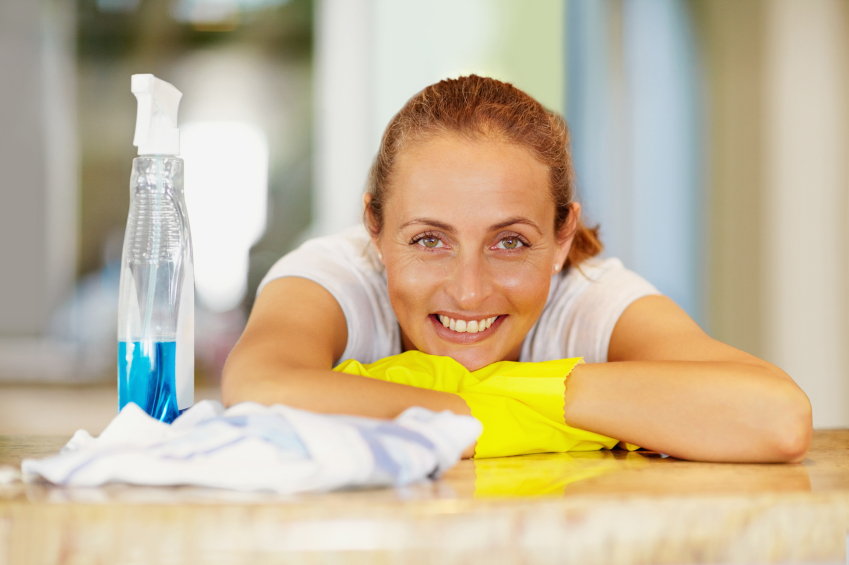 It's eco-Tuesday and in my house Tuesdays are mid-week cleaning day so I'd like to share with you some of our cleaning routine and my favorite natural cleaning products.
My husband and I team up on Fridays and Tuesdays to give the house a quick wash-down so it doesn't get too dirty- we are a little clean-crazy. It takes us about an hour when we do it together and really helps keep the house tidy and under control. I clean the bathrooms, do some laundry and tidy up the kids' bedrooms while my husband sweeps and washes the floors and vacuums. Not only do we save money by using natural cleaning products, but we feel so much healthier by not breathing in fumes from some heavy duty cleaners that we used to use. We don't clean everything in a natural way but we make a big effort to limit almost all cleaning products which contain lots of chemicals.
So here is what we do:
Bathroom
I fill up a Rubbermaid pitcher with equal amounts of water and vinegar and I pour it everywhere- over the toilet, in the toilet, over the sink, in the tub, and on the floor. It's messy, but it's quick and easy and gets everything clean. Then I just wipe everything down (including the doors and door handles). For the mirror I use this combination which I keep in a spray bottle: 1/4 cup vinegar, 1/2 teaspoon liquid soap or detergent, and 2 cups of water in a spray bottle. I use old undershirts and t-shirts as rags and newspaper for the mirrors.
Floors
Once again, we use our favorite vinegar diluted in warm water.
Kids' Bedrooms & Laundry
My husband and I have started cutting down on the amount of clothes we purchase for our kids. Not only is it unnecessary for them to have so much, but it just ends up on the floors half the time and taking up too much space in their closets. It also makes tiding up their rooms (after they have already done their part) much easier. Here's their wardrobe: For the boys, ages 9 and 7, one pair of track pants (they wear these twice a week to school on gym days), one pair of jeans, and one pair of cotton-twill pants. Shirts- they both wear a school t-shirt on gym days (twice a week) and have 4 other shirts including one sweatshirt. For my 3 year old daughter, it's 4 tops and 4 bottoms, all coordinating with each other. Since I do a load of clothes on Tuesdays, the kids always have what to wear.
Speaking of laundry, I wash in cold water, always, with the exception of heavily soiled clothes from the kids- boys will be boys and toilet training makes for soiled laundry so I do end up with a warm load every so often! Towels and rags is another exception which I wash in hot water. The loads I do on Tuesdays are small so I use my drying rack (we purchased ours from Ikea, but I believe it's only available in stores- see the drying rack link to purchase one from another online vendor) to hang them up in the morning and by evening it's all dry. My goal is to hang at least one load of laundry a week. My favorite detergent, and I use as least as possible is Tide Pure Essentials with Baking Soda.
What's your cleaning routine? What kinds of cleaning products do you use? Tell us below!
Posted by Marcy Tate