DIY Wednesday: Laundry Day!
Posted by Hometalk

|

Oct 21, 2009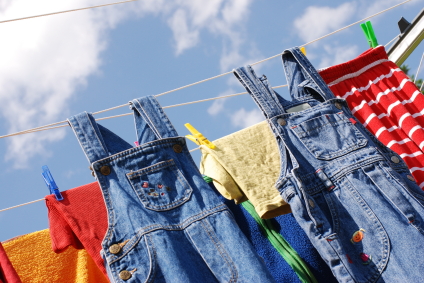 I've always enjoyed being resourceful -especially when it comes to laundry. My latest laundry challenge is that I don't own a washer and dryer, and my apartment complex does not have outdoor space for a clothesline. The local laundromat costs about $4 a load, and that's not including the dryer. And I'm busy. I usually wait about three weeks before I do laundry, at which point I make time during the day to go to the bank to get $16 worth of quarters, and then proceed to monopolize every washer in the laundromat later that night. It's not too glamorous (I dream of a laundry suite of my own), but that's the life of a Web start-up editor. I don't mind that it forces me to be resourceful. In a way, it's fun.
I refuse to spend $32 on laundry, so I don't spend on the dryer. Since I have no outdoor space to dry my clothes in, I came up with a DIY solution that is moderately annoying and hampers my movement through my apartment while it is in use, but works well.
I've been toting 50 yards of clothesline from apartment to apartment. I think it cost about $20. It was a GREAT investment. On laundry night, I hang clothesline across my living area. I run the clothesline back and forth from the metal ladder to the loft where I sleep to bars on my window. For 24 hours I have to duck under my laundry, but it's a decent trade off when you consider how much money and natural resources I am saving.
Another DIY laundry tip: I spent some time looking for DIY natural laundry detergent recipes and found that most of them involved soap and vinegar. I was reluctant to try one until I ran out of laundry detergent a few weeks ago and resorted to squirting some dish soap and white vinegar into the washing machine. It worked - and it worked even better than laundry detergent! I buy huge jugs of bulk liquid dish soap, so I was pleased to realize that I could use one product to multitask all of my cleaning needs. I am using the bulk dish soap now as laundry detergent, household cleaner, and, um, as dish soap. I love reducing clutter and shopping less - simplicity is the name of the game.