DIY Tip: Upcycled Microwave Mailbox
Posted by Dan Gould

|

Mar 13, 2012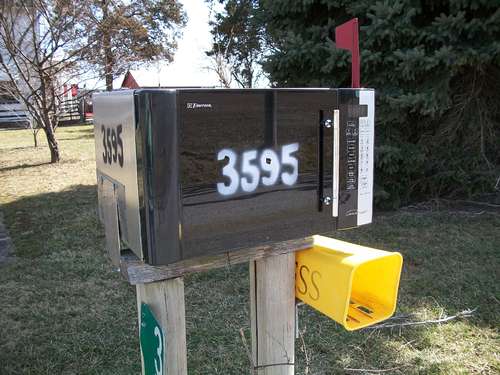 Instructables member teddybear101 lives in an area plagued by bouts of wind that would end up pulling open the door on their mailbox, leaving the contents exposed to possible ruin by the rain or snow.

Using good old DIY ingenuity, teddybear101 came up with a radical solution to this problem. In an example of "extreme recycling," they mounted an old microwave to a pair of wooden posts, painted their house number on it and attached a red flag.
Though it's unusual looking, the microwave mailbox is weatherproof and offers a generous amount of space for large packages. According to teddybear101, as long as the mailbox has the red flag, house number and is regulation height, it's legal to use.

This is a great example of upcycling that nearly anyone could do, so there is no need to call in a Seattle carpenter to build a weatherproof mailbox if you live in that (or any other) rainy city.