Shira Beth

|

Mar 10, 2010
Dump Cooking Fat Without Clogging Drains
Posted by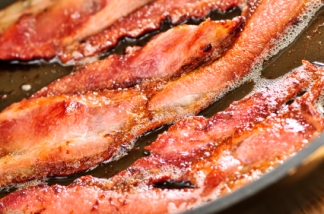 Whether you're frying up some bacon or browning ground beef, you'll be left with greasy fat at the end. Someone may have told you it's okay to flush it down the toilet or wash it down the drain as long as you run hot water and add some dish detergent -- but don't! Eventually, that fat will congeal (either in your pipes or in the sewer main) and it will cause problems.

Instead, you have a few options:

Save jars and aluminum cans for fat disposal. Once you're done cooking, drain the grease into your chosen container, wait for it to solidify, and then seal it and toss it into the garbage. Many people keep a large can for this purpose in their fridge or under the sink, and they wait until it's full and then throw it away.
Drain your cooking fat into a clean, sealable container and reuse it the next time you cook. It will add flavor to your veggies, eggs or even popcorn. Oil from deep frying can be strained and saved for the next time you deep fry.
Make a few calls to local restaurants. Most of them have an oil bin where they dump their used grease. They sell it to a recycler to be turned into biodiesel or to be otherwise repurposed. Many restaurants will happily accept your grease to add to their vats.