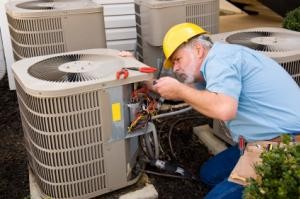 If you're concerned that your air conditioning unit has seen better days and you're wondering if it's time to find a replacement, the first thing you should do is check its age. If your a/c unit is more than ten years old, it's a good idea to replace it with a new energy-efficient model that will cut down your energy bills and simply be better for the environment as a whole. Check out the U.S. Department of Energy for more information on energy efficient a/c systems and how to select the right one for your home's needs.
Now, if you're a/c unit is less than ten years old but not working up to par, you may simply need to replace the filter - not the whole system. The filter is not only meant to keep the air clean, it is also meant to keep the inside of your unit clean. A dirty or broken filter will significantly reduce the effectiveness of your air conditioner and it will lessen the lifespan of the equipment inside your unit.
Together, these problems will cost you a bundle in energy bills or parts replacements that you don't need to pay. If you clean or replace your filter, the a/c unit will not need to waste energy trying to blow air through clogged equipment, which means that your rooms will reach the desired temperature faster. Check out Greeniacs.com for a detailed guide on how to easily and responsibly clean or replace your filter. In the end, you'll find that checking now to make sure that everything inside your unit is clean and working well will save you time and money.