8 Earth-Inspired Thanksgiving Centerpieces
Posted by Linda Merrill

|

Nov 21, 2010
It's Thanksgiving again and unlike many other holidays that involve religion or patriotism, Thanksgiving in America is simply about gathering around the table with family and friends. From the start, this meal has been about giving thanks for our blessings or at least, as with the Pilgrims, giving thanks for making it through another year. Whether it's humble or sumptuous, the Thanksgiving table brings to mind the harvest, work done with the hands and the bounty of the season. So it's no surprise that the centerpiece --a big focal point of the Thanksgiving table -- is so often created from natural materials. To get you started on your Thanksgiving table, here are some great centerpiece ideas that are inspired by the bounty of the season.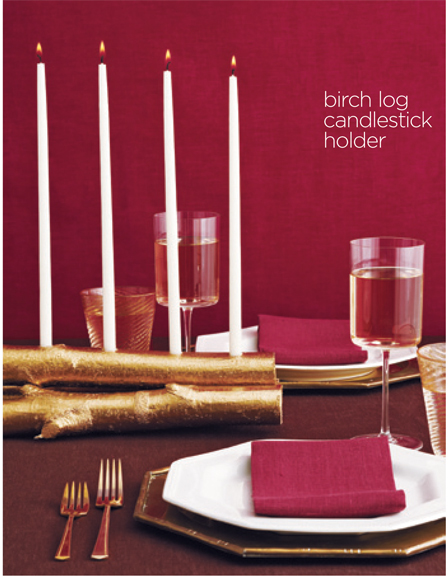 Birch Tree Candelabra
Recently featured in Woman's Day Magazine, stylist Eddie Ross created a blinged-out candelabra made from three matched birch logs, sprayed gold and glued together. Carve holes for the candles along the top log and you have a truly one-of-a-kind candelabra that will fit your table perfectly. Looking for something a little more rustic? Simply skip the gold paint and the natural logs will be perfect.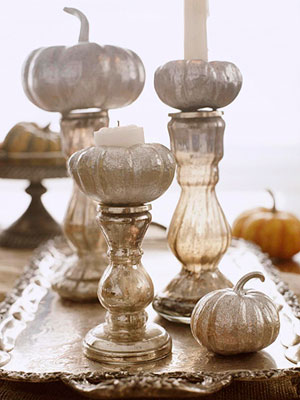 Sparkling Squash
If pumpkin orange isn't your favorite color and you're looking for something a little more sparkly and upscale, how about spray-painting mini-pumpkins silver and pairing with mercury glass candle sticks. These mini-sparklers are reminiscent of Cinderella's carriage going from ordinary pumpkin to something fit for a princess.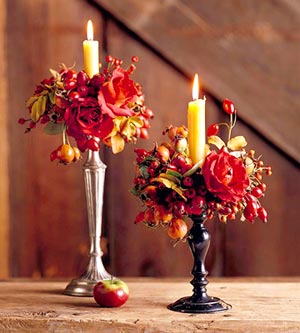 Candlelight Delights
Unmatched candlesticks are not a problem when they are unified by these sweet fresh flower and berry embellishments. Group three or more candlesticks of differing heights together for a sweet centerpiece.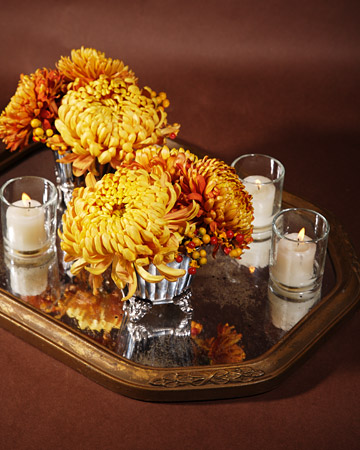 Mirrored Floral
This mirrored tray centerpiece spotted on Martha Stewart couldn't be any easier. Simply throw a few mums into small vintage vases and add some votive candles. The combination of the mirrored tray, glowing candles and deep orange mums will create a centerpiece that has the warmth and flicker of a tiny fireplace.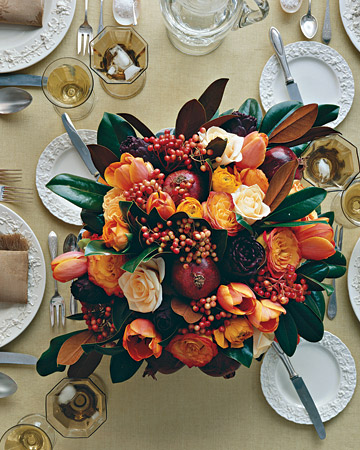 Simply Floral
Flowers are always classic centerpieces. With all centerpieces, it's import to pay attention to the height of the flowers. No one likes to have to peak around the carnations to have a conversation across the table. Keep the flowers low, as seen on Martha Stewart here, and relatively unscented so as not to interfere with food or conversation flow.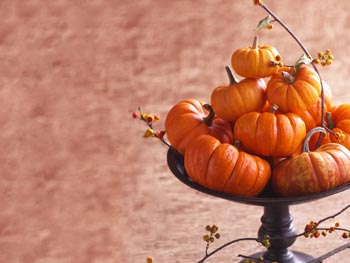 Simply Minis
Celebrating the bounty of the harvest is made super easy with this simple pile of mini-pumpkins in a classic pedestal bowl, as seen on AOL's DIY Life, with a few berried branches for texture. A trip to the grocery store and the backyard will likely yield the makings of this simple centerpiece.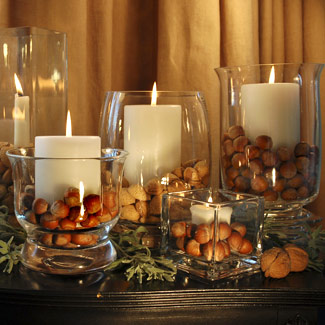 Going Nuts
Clear glass vases of any shape or size can be filled with plump white candles and acorns or walnuts for a beautiful, textural centerpiece that offers both light and that sense of bounty and harvest. Mixing up the styles of the vases makes for a very interesting centerpiece, or use three or more of the same vase and place down the length of the table for a beautiful display.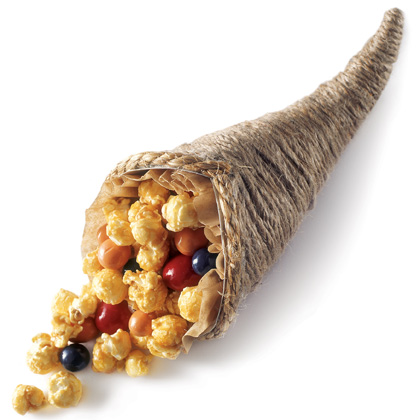 Cornucopia of Fun
Of course, kids decorations are always a hit on Thanksgiving. And if you have a big family feast that includes the "kid's table", then this Paper Plate Cornucopia centerpiece will both entertain and enchant the kids throughout the day.