Why Use Laminated Strand Lumber
Manufactured wood uses soft trees, excess scrap for strong, eco-friendly construction.
Posted by Steve Graham

|

Oct 15, 2009
---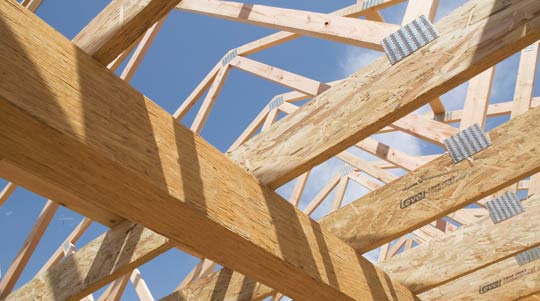 Laminated Strand Lumber (LSL) manufacturers press together strips of wood that may be too weak, small or misshapen to otherwise be cut into solid joists and studs. Think of it as the construction-world equivalent of making a big White House Christmas tree out of little twigs from Charlie Brown Christmas trees. LSL is most commonly shaped into framing boards for floor joists and support beams. It can also be used for door cores, sill plates, and other applications.
LSL companies typically use soft, fast-growing wood in place of slow-growth hardwoods. They cut pine, aspen and other soft woods into strands less than one foot long, then pressure-bond them using a waterproof adhesive. LSL is good for the environment and builders alike. LSL production can use every part of the tree, thus generating less forest waste in creating strong framing lumber. The adhesive also is normally formaldehyde-free and less toxic than the glues used for fiberboards and other manufactured wood products. The lumber is designed for weather resistance and pre-dried. Thus, it is less likely than traditionally cut lumber to warp or split. It is also manufactured into uniform shapes, avoiding the hassle and waste of bent or twisted boards.
For building and remodeling, LSL has two main drawbacks. It is more expensive than most alternative products. It may also be too strong, wreaking havoc on standard router bits and other tools. This is easily overcome with stronger (albeit more expensive) tools.
Here are two of the widely available LSL options:
Louisiana Pacific
Louisiana Pacific sells LSL boards up to 64 feet long. They are 1 ½ to 3 ½ inches thick and up to 16 inches wide. The company claims the resin is formaldehyde-free and creates negligible emissions. The lumber is available at Menards stores throughout the Midwest.
Weyerhauser
Wood and paper giant Weyerhauser owns more softwood forest land worldwide than any other private company. The company makes some hardwood lumber, but it can also use many of its smaller trees and softer wood for LSL boards. In addition to planks and boards up to 30 feet long, Weyerhauser makes fire-rated door cores and pressure-treated sill plates. Most of the wood comes from an Ontario forest that meets Canadian and international sustainability standards. The products are widely available at building supply stores.
Universal Forest Products
In turn, Universal Forest Products makes double-hinge plates for roofing trusses, concrete-forming boards and forms, and other products out of the TimberStrand LSL. The company has 80 distribution centers across 30 states and provinces in the United States and Canada.
Laminated strand lumber is a widely available engineered wood product that is good for builders and healthy for the environment.
Photo credit: Structuremag.org.
---
Top Cities Covered by our Carpenters: