When Swallows Nest Under Your Eaves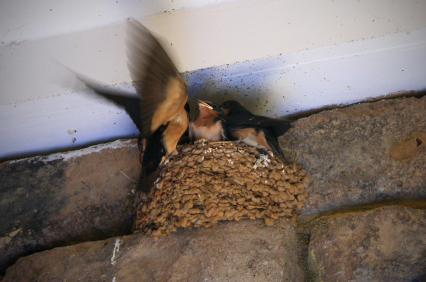 One sure indication that spring has arrived is the chirp and flutter of our winged friends. If a band of swallows takes up residence under your eaves, however, you may debate my use of the term "friends" and think more along the line of "pests." Laws in most areas protect swallows, so aggressive removal methods are typically not an option. Swallows like to build nests in the protected corner of eaves and overhangs, but their mud nests are both unsightly and a health concern when considering their associated droppings.
Prevention is Best
Removing a swallow's nest or group of swallows' nests is a lot more challenging than preventing them from nesting in the first place. They are creatures of habit and will return to the same area year after year. As in the real estate market, "location is everything." They nest in the corners of eaves to be protected from the elements and to evade potential predators. The size and makeup of the eave will affect how desirable it is as a nesting site. Larger overhangs and rough surfaces are usually more attractive. Your goal is to make the nesting site undesirable. If swallows' nests are common in your area, a number of methods can be used to deter them.
Bird Netting
This option can be permanent or used seasonally. If a swallow's nest is already present, you will need to wait until the next season to install this or any other deterrent to be in compliance with most laws. Netting is an inexpensive option, as it can cover a large area for a basic cost. The basic installation here is to angle the net from the outer eave to a point lower on the wall to provide a 45° angle of net that protects the desired corner location.
Spikes
Spikes are another alternative to prevent swallows' nests. Here, they are installed on the bottom of the eave up along the wall edge. Spikes can be found in both plastic and metal and are installed as a permanent deterrent. The plastic versions come in an assortment of colors to match your trim.
No Nasty Nest
This is a deterrent designed for swallows nests specifically, and is sold as individual kits. Each kit has a handful of "fish-line" type mono-filament hanging from a plastic base. These are lightweight and easy to install with a self-adhesive strip or small nails. The minimalist design is nearly invisible from the ground and is annoying enough for the birds to choose a better location.
Bird Slope
This deterrent is a slippery panel that is installed in the corner of the eave and prevents the birds from getting a grip and building there. In addition to preventing swallows' nests, these can also be used like spikes in many other areas to prevent perching.
Keeping the swallows nests at bay can be more challenging for homes that are tall: Obviously, working at a 2-story gable peak will be more frightening for most than at the top of a single story non-gable eave. If this project is a bit intimidating, check in your local community for a service provider, they may stock the needed deterrents and provide installation tips or provide installations.
Remember: The goal here is not to build the ultimate defense, but merely to provide a deterrent for them to nest elsewhere. The benefit swallows provide by eating vast numbers of insects is great. We just don't want them doing it on our house.
If birds aren't the end of your pest troubles, you may benefit from tips on ant prevention, cockroach prevention, termite prevention and ways to prevent squirrels.
Top Cities Covered by our Roofers