Taking Advantage of the Sun
7 Tips on How to Increase Natural Light in Your Home
Posted by Sirena Rubinoff

|

Sep 01, 2009
---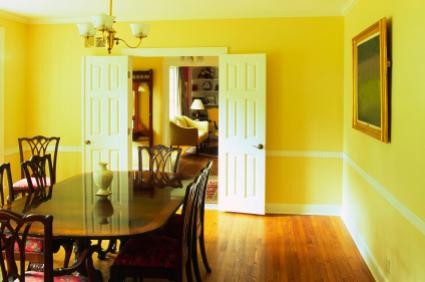 Your home is your heaven and let's face it, did you ever picture heaven as a place filled with darkness? No, it's full of light and that's how your home could be too! So, if you're tired of waking up in a dim house and don't have the means to install large glass skylights in every room and hallway, check out our 7 tips on how to hone in on all that heavenly natural light just waiting outside.
Need Direction?
Your home may not be very well equipped to take in natural sunlight right now, but the potential is there and you can start by learning about the directions that light travels. Areas facing South, South East and South West, receive the most natural light throughout the day and year. South is the direction you want any new windows, glass doors, solar panels, etc. to face in order to make the most of your natural light settings. Areas facing the East will receive morning light with sunrise and areas facing the West will receive afternoon and evening light as the sun sets. North-facing windows are something you might want to avoid if you're looking for more light in your home because these areas, including North East and North West, do not receive direct sunlight.
Tubular, dude!
If you're dealing with rooms that do not have southward-facing windows or you can't install new windows, you might consider budgeting for tubular skylights. These are vertical tubes with a dome on top that go through the roof and attic space in order to focus outdoor sunlight into a specific room directly below. These are much more cost effective than traditional skylights because they don't involve major construction for installation and they don't let in ultraviolet rays like traditional skylights, so your furniture and carpets won't fade. Tubular skylights are designed to bring more natural light into single-storey homes or the top floor of a multi-storey home, and not into floors that have rooms above them. However, you can find some tubular skylights that have "elbows" that will allow you to fit them around obstacles.
Create an Inviting Entrance
Most entrance foyers are dark because they typically do not have nearby natural light sources, like windows or skylights. An aesthetically pleasing solution is to add glass to your doorway. You can put glass inside the door itself or add sidelights and overhead light panes, called transoms. The glass will bring natural light into your home's entryway, giving it a feeling of welcoming warmth. And don't worry, you can buy glass that is treated so that passersby cannot see into your house. Obscure glass is glazed in such a way that it will let light into the room while still providing privacy and can be used anywhere form the front door to bathroom or bedroom windows. Tinted glass provides privacy and insulation from the sun through the use of a transparent plastic film or metallic laminate. You might also want to look into frosted glass, stained glass, or thin adhesive films to cover your windows elegantly and privately, while still letting natural light into your home.
Color Me Beautiful
Your interior color scheme also helps to determine how light or bright your room appears. You can change the appearance of your dark rooms simply by painting the walls a lighter color so that they can reflect more of the existing natural light in your home. Bright colors, like whites and pastels, bounce the light around the room, while dark colors absorb the light. Glossy paints are best because they reflect the most light.
Set Your Windows Free!
While you're rethinking your color schemes, you might want to rethink your window curtains and drapes as well. Heavy window curtains can block natural light even when they are pulled away from the window. If you really want to reveal more of your natural light, consider switching out your heavy fabrics for simple, lightweight ones that can reveal the whole window when opened. Cotton or polyester fabrics work well and can be made into sheer or translucent curtains that even allow light into your home while closed. This is a great way to maintain privacy and still take advantage of the daylight outside. Remember, the color of your lightweight curtain will influence the color of the light in your room. You can create a wash of golden light through the installation of gold or yellow curtains, or add a rosy tint to your room with red or burgundy curtains. Have fun using curtain colors to enhance the atmosphere of your home!
Mirror, mirror on the wall...
Don't forget about these shiny beauties when revamping your home's natural lighting situation. Mirrors can reflect sunlight into the shadier areas of any room, from your kitchen to your bedroom and bathroom. Plus, they double as an instrument of elegance and style, while simultaneously adding the illusion of more space!
Squeaky Clean
Get out that mop and get ready to wax because a good floor cleaning will not only look great, but glossy floors will actually add a brighter glow to your home. Polished floors reflect light. Carpets absorb it. So, if you have a lot of carpet in your home, you might want to remove some of it and put down some hard floors. They're easier to clean and help add light to your home.
So, take a walk through your home and see where you can implement some of the less time consuming tips listed here, such as waxing the floors, adding mirrors, and changing your drapes. See how your home feels at that point and then start thinking about how much more light you need and what is the best way to get it, either through replacing old windows with better positioned ones, adding tubular skylights, or changing the color scheme of your home. Have fun with it and good luck!
---