Linda Merrill

|

Sep 07, 2010
Rustic Country Bathroom Fixtures
Perfect fixtures for your rural escape.
Posted by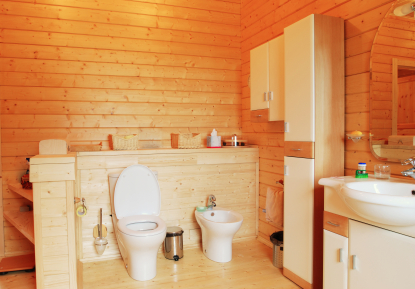 If rustic country style brings to mind a hunting lodge nestled in a pine forest or perhaps a lakeside cottage, then you might consider some of these great fixtures when updating your bathroom. Bring a little bit of the vacation vibe home.
Vanities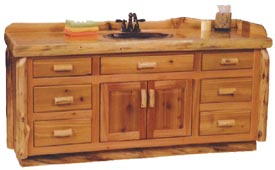 This six-foot Adirondack pine vanity just exudes rustic simplicity and charm. It almost looks handmade with its pine drawer pulls, tree trunk detailing and optional wood slab top. The sink can be installed left, right or center and the vanity itself can be ordered in custom sizes.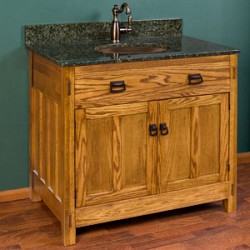 This 36" Mission style vanity is made from stained oak and features a hammered copper sink basin. The copper basin in finished in a French hot process which engrains the patina into the copper itself and is not wax applied. The solid bronze hardware and optional granite top add sophistication to this "back to nature" style piece.
Sink Faucets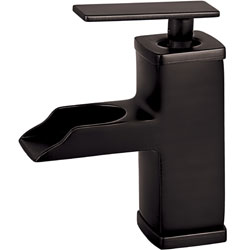 This oil rubbed bronze lever faucet has the feel of an old-fashioned water pump-but without the hard work! Lever faucets are excellent choices for the elderly or those with limited dexterity and this one is quite stylish. The dark bronze finish is deep and elegant looking.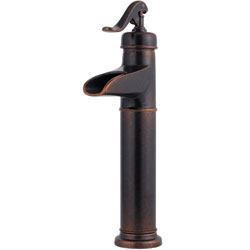 The Ashfield vessel filler would be a fantastic partner to a hammered copper vessel sink. The taller design emphasizes the water pump feel. The "rustic bronze" finish has lighter notes of copper giving the feel of a beautifully aged piece of hardware.
Sinks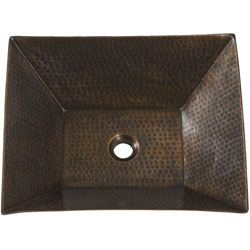 The Belle Foret square hammered copper sink is unique in its rectangular design and would be a real eye-catcher on a rough slab of granite. The sink comes in two finishes: oil rubbed bronze and weathered copper.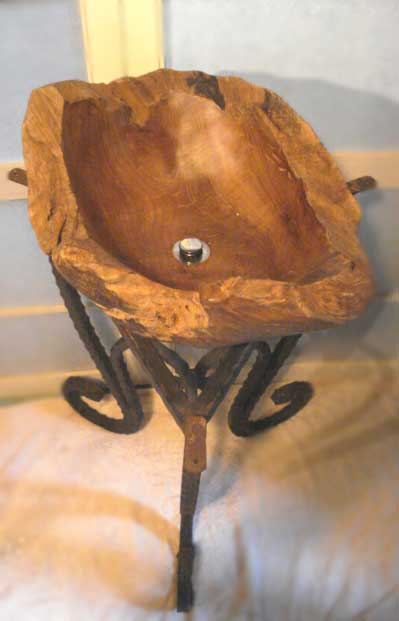 Nothing is more rustic looking than this carved out wooden sink with drain. It gives the feel of a fallen tree trunk carved by rain over the centuries. Pair with a crane-neck vessel sink fixture for the perfect guest bath showstopper.
Tubs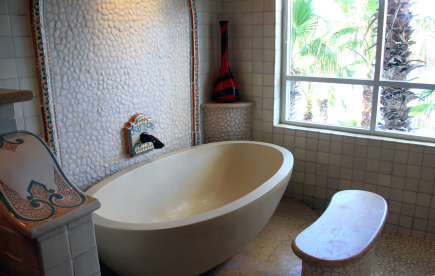 Imagine yourself in a hidden away granite quarry taking a bath in the ancient rock. The Absolute Black soaking tub is polished on the inside and rim for comfort. The outside has been fine picked by hand. This tub comes in a selection of stones, including granite, marble, travertine, limestone and onyx. A similar tub is available in a different shape with an even more rustic outside finish. Each piece is carved from a solid block of stone and is each one is unique.
Light Fixtures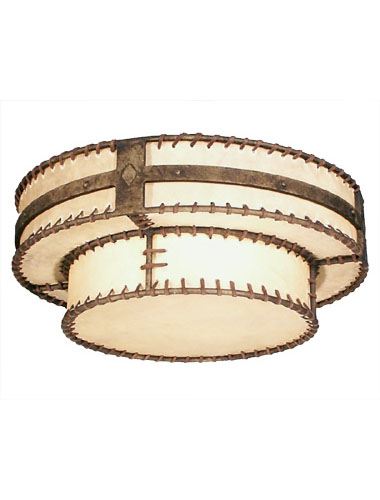 This unique double-tiered light fixture suggests a hand-sewn finished look with copper accents and parchment shade. Optional rawhide seaming is also available. This fixture would work well in any western or rustic themed bathroom and provide a beautiful quality of light.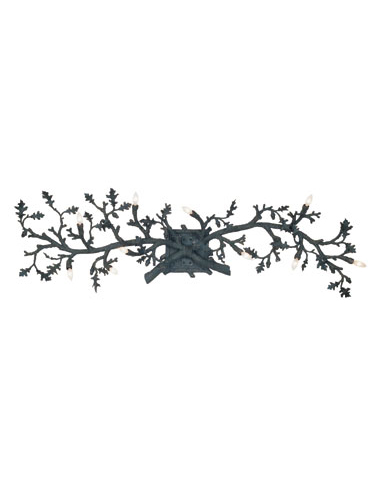 This unique vanity light comes with several branch and tree motifs including Aspen, Grape, Maple Oak and others. The finish options include bronze, copper, pewter and antique iron. A beautiful fixture that is rustic, but not cartoony.
The beauty of rustic design is not in direct motifs such as bears and moose, it's more about featuring the natural elements of the great outdoors such as solid woods, natural stones combined with sturdy metal fittings. Focus on the beauty of nature and your rustic bath retreat will have you thinking you're out in the deep woods in no time.