Painting Cost Per Square Foot
Jan 01, 2011
---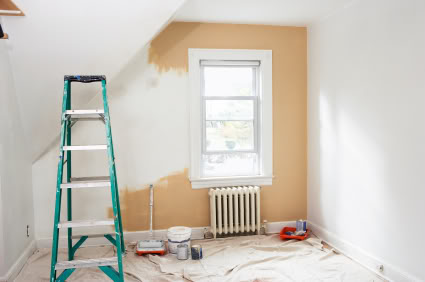 When deciding to give your home's interior or exterior a fresh look, budget-minded property owners often consider painting. Cost per square foot is low, making a fresh coat the least expensive way to give your home a face lift, increase curb appeal and add value to the property. When calculating the painting cost per square foot, consider the price of paint and materials.
Paint
If you decide to paint your home yourself, you can calculate thecost of paint and utilize the result to figure out your painting cost per square foot. Depending on the type of paint you choose, paint and primer will cost anywhere from $15 to $60 per gallon. Designer and low-VOC paints often cost more.
One gallon of paint will cover an average of 350 square feet. To calculate the number of gallons you will need, measure all surfaces to be painted. For example, a 10' x 10' room with an 8' ceiling will be 10 x 8 x 4, or 320 square feet. Then subtract the dimensions of the windows and doors. Because 320 less doors and windows is less than 350 square feet of coverage for one gallon, buy two gallons to give the room two coats of paint.
Materials
Materials are relatively inexpensive and will not significantly increase the painting cost per square foot. The materials needed are brushes, rollers, a paint pan, tape, drop cloths and a respirator or mask. Your paint brush supply should include a cutter for applying paint in corners and around trim. Be sure to protect trim and windows by tapingalong the edge to prevent having to clean paint splatters. A drop cloth will protect your floor covering. Always take off your shoes when leaving the painting area to keep from tracking wet paint around the house.
A respirator or mask is particularly important if the area to be painted is not properly ventilated or you are not using low-VOC paint. The cost of the basic materials at most paint or hardware stores will cost between $30 and $50 for a home under 1,200 square feet.
Paint Sprayer
For larger jobs, paint sprayers can reduce the painting cost per square foot because they reduce the time required and generally reduce the amount of paint required for proper coverage. Sprayers are also a good choice for uneven or hard-to-reach areas, since paint can be easily sprayed into those areas.
Due to the cost to purchase a sprayer, it is not an economical choice for smaller jobs that are just a room or two. Inexpensive personal-use models start around $60. Professional-quality sprayers cost around $450 and up.
To calculate the total painting cost per square foot, add all costs and divide by the number of square feet for the project. Because painting takes a lot of time, many homeowners prefer to hire a professional.
Author Caryn Colgan is a home improvement expert, writer and photographer based inColorado. Ever wanted to ask a property owner how to care for a property? You can ask Caryn — she's an expert.
---
Top Cities Covered by our Painters: