How to Paint Aluminum Siding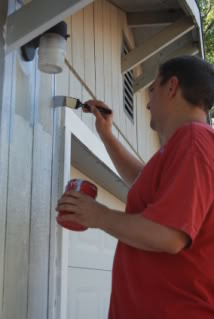 Caption text
Painting is a cost-effective way to update your aluminum siding. It adds curb appeal to your home and could increase your home's value. Painting aluminum siding is a project that a beginner DIY-er can accomplish with just a few simple tools. Read below to learn how to paint aluminum siding.
Aluminum siding can dent, scratch and fade easily. Corrosion is another problem that occurs over time with aluminum siding. Learning how to paint aluminum siding will save you from having to replace all of the siding on your home. But if your aluminum siding is beyond painting, then you will need to consider replacing it.
How to Paint Aluminum Siding
Painting aluminum siding can be a fun and rewarding process. The end result is beautiful, newly finished siding. Following the steps below will help you accomplish a successful paint job.
It is best to find a two- to three-day period when the weather will be cool and overcast. Cool and overcast weather is the best condition for painting aluminum siding. Aluminum siding dries best slowly. Therefore, weather conditions with minimal sun are ideal.
Step 1. Cleaning the Siding: Scraping and Washing
When painting aluminum siding, the most important step is the cleaning. The amount of time needed for cleaning will vary according to the amount of dirt that needs to be cleaned off of the siding.
Prepare a bucket of soapy water and a few other supplies, including towels, sponges, a hose and scraper. If the aluminum siding has previous layers of paint, then you will need to scrape them off. Once the scraping process is completed, continue on to the washing process. Simply wash the siding with sponges, removing as much dirt as you can. Use a hose to spray down the siding after you have scrubbed it. Do not use a power washer, as you could end up causing more damage than good. The powerful flow of water could get behind the aluminum siding, leak into your home and rot the drywall.
Step 2. Let it Dry
Allow the siding to dry for a day or two. Even if the siding appears to be dry after a few hours, it is better to wait the full two days before painting the aluminum siding.
Step 3. Prime
The best primer to use for painting aluminum siding is a thinned-down oil-based metal-priming paint. A metal or alkyd-based primer that has been thinned to one part paint thinner for four parts primer will work best on all types of aluminum siding. Using latex primer or paint can cause a reaction with the siding. The reaction will cause bubbles to form beneath the paint film. It's therefore best to stick to an oil-based primer.
Step 4. Painting Aluminum Siding
A semi-gloss paint is the best paint choice for painting aluminum siding. Satin or eggshell finishes look the best on aluminum siding and they are known for their longevity. Make sure to apply the first coat of paint within 48 hours after the primer. Painting aluminum siding is straightforward and does not require any special painting techniques. Simply use a standard paintbrush for application. In most cases, two coats of paint are necessary. Make sure to choose a high-quality, 100% acrylic latex paint made for metal siding.
Painting aluminum siding is a simple DIY project when done correctly. Contact a painter for additional advice.