New Kind of Resolution: Big Chairs for Big People
Are you sick of the media weight-loss pressure that rolls into town this time of year? I am, too. It's OK to be fat and there are great chairs for big-bodied folks.
Posted by Chaya Kurtz

|

G+

|

Dec 25, 2011
---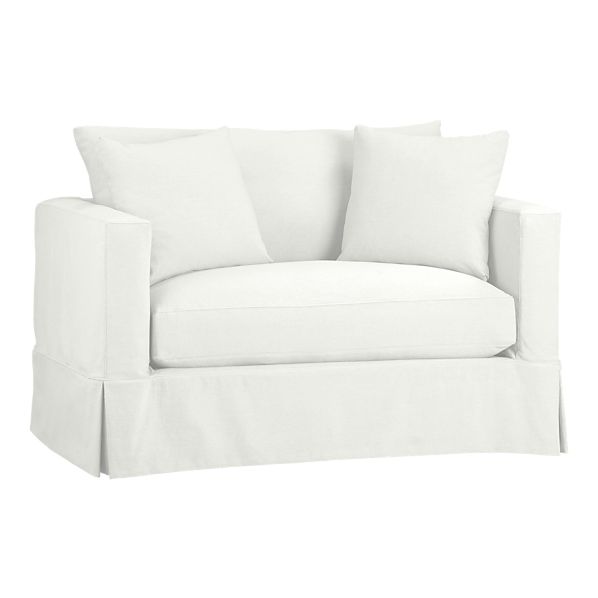 Here's a question for other people who publish websites and blogs: Why do we perpetuate the barrage of self hatred improvement articles that flood the internet this time of year? It's like, X-mas comes around and what comes next? Cute little chestnuts like this:
I wrote that home fitness blog because I thought I was supposed to write it. You know what? We don't have any advertisements on this website; Jenny Craig definitely is not paying us. The only thing I am "supposed to" do is shed a little realistic light on the otherwise "aspirational" world of home & garden content. Guess what? A lot of people are fat. I am joining the ranks. Instead of going on a self improvement hatred rampage, I've become fascinated by fat bloggers like Lesley Kinzel, who (gasp!) seem happy and healthy and like they don't give a rat's rump about losing 2 lbs. Instead of looking down my nose at the fat women in my neighborhood (I live in the land of, respectively, fried chicken and potato kugel. Yoga studios and colonic spas have yet to seep over the border into my neighborhood from Park Slope. No one could afford them. The average response in my neighborhood to the suggestion of subsisting on a concoction of cayenne pepper, lemon juice and maple syrup would be, "What?"), I've been looking at them like, "In a few years, I might look like you."
In honor of all this, I'll spare you the misery of reading another piece about how to Lose Weight and Feel Great! Here are some big chairs for big people who actually want to be comfortable in their own (stylish) homes. They'd also be good for skinny people who like to curl up on a big, comfy chair.
The Pottery Barn Charleston Chair-and-a-Half: Classic design, and customizable with 90 (!) different choices of upholstery fabric. Nice.
The Crate & Barrel Willow Chair and a Half: This one has modern lines, but is cushy enough to be comfortable. It's also made in North Carolina with a sustainable hardwood frame. So unlike me, it's politically correct.
The West Elm Bliss Chair and a Half: Tweedy upholstery fabric and mid-century lines meet lounging bliss with this chair, proving that gentrifying brownstone neighborhoods are not only being furnished by raw vegans who spend 5 days "cleansing" after drinking 1 beer.
The Restoration Hardware Majorca Chair-and-a-Half: This beautiful all-weather wicker chair costs half a month's salary, but its square lines and squat profile are awesome. Who wouldn't want to hang out on this one on the deck with a good book?
The Jonathan Adler Kirby Slipper Chair and a Half: The upholstery choices for this densely-cushioned slipper chair are out of this world. Also, you can push two of these together for a guest-bed.
The Ethan Allen Franklin Chair and a Half: This chair is stately, with classic rolled arms. Its winning detail is its thick, round polished walnut legs.
The Shabby Chic Duke Chair-and-a-Half: In Rachel Ashwell's signature style, the casual look of this chair belies its price. Just kidding. This chair is awesome.
Z Gallerie's Linden Chair & 1/2: The Chesterfield-style fans among you will love the studded arms of this durable classic.
Do you have a big chair that you love? Are you a bigger-bodied person who is sick and tired of all the "New Year's Resolution" media? Leave a comment. We're listening, and comments make us happy.
Chaya Goodman Kurtz is a Networx - http://www.networx.com - writer. Get home & garden ideas like this - http://www.networx.com/article/new-kind-of-resolution-big-chairs-for-b - on Networx.
---