The Difference Between a Plumber and a Master Plumber
Posted by S.E. Smith

|

Jan 01, 2011
---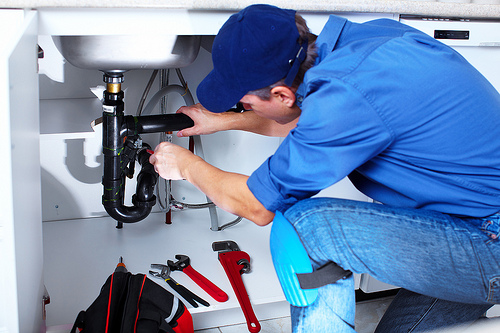 Photo of a plumber by Boise Plumbing/Flickr.

The difference between a plumber and a master plumber depends on licensing and regulations by state. In some states, there may be two or three tiers of licensing and certification for people in the plumbing professions, while other states may have less rigid regulations. Roughly speaking, the important thing to know about the difference between a plumber and a master plumber is that master plumbers have much more experience and typically are familiar with business management and related subjects, while plumbers, also sometimes called licensed plumbers or journeyman plumbers, tend to have less experience and focus on the plumbing aspects of their work.

Plumbing requires a variety of skills, including the ability to lay out plumbing and fixtures in accordance with the building code, work with different kinds of plumbing systems, and consider issues like environmental efficiency and aesthetics when planning and developing a new plumbing job or retrofitting plumbing. The work can also involve repairs as well as specialty tasks such as fixing stoppages. These skills are typically learned on the job as an apprentice, although some vocational schools also offer plumbing training.

As people train to become plumbers, they work under the supervision of someone with experience—often a master plumber. Experienced plumbers provide tips and tricks and gradually allow their apprentices to work with less supervision. In some states, only master plumbers are allowed to contract journeymen and apprentices to work under them, which can be one component of the difference between them and less skilled plumbing professionals.

To be allowed to call yourself a master plumber, you usually need to pass an examination. Each state has its own standards for people who want to apply to take the examination, but they typically include a minimum of training and experience, such as two years in a vocational school or four years as a journeyman plumber. Once people have clocked up enough time in the plumbing profession, they can sit for the examination to become a master plumber or, as they are known in some states, plumbing contractor.

The examination includes a mixture of subjects. Some questions focus on plumbing-specific topics including questions about the building code and how to approach various plumbing challenges. Other questions deal with business law, discussing contracts, obligations, and other aspects of the trade that a master plumber may encounter. These questions are designed to ensure that people working as master plumbers are fit to draft contracts and will work professionally with their clients; the licensing process is designed as a form of consumer protection to help homeowners and others avoid unscrupulous or untrained contractors.

After passing the examination and becoming a master plumber, typically the state issues a license number. It may be necessary to keep up with continuing education requirements, and some plumbing contractors also join professional organizations to keep up with the latest developments in the field. Customers are always entitled to information about a plumber's license number, experience, and training, and should request all of this information before entering into a business agreement, to ensure that they know who they are working with.
---
Top Cities Covered by our Plumbers: