How to Make an Insurance Claim for Your Roof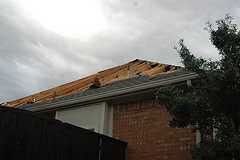 Photo: Charles Roberts, Flickr.com
Whether you live in Denver near "Hail Alley" and have suffered a hailstorm or your region has weathered a hurricane, you may need to replace your roof and file an insurance claim. Even a light wind- or thunderstorm may cause a large branch to fall on your roof, damaging it. You have to file an insurance claim. What now?
What to Do
When the region you live in has experienced a hailstorm or other severe weather conditions, the first thing to do is inspect your property to see if your car, siding or fence has been damaged. If your siding has been damaged, aside from needing to hire a painter, you'll know that you need to inspect your roof as well. Unlike other parts of your home, your roof can sustain damage that will only be apparent in a few years' time when it starts to leak. Once this happens, it will be too late to file a claim, and installing a new roof from your own budget is a home investment with one of the lowest returns.
Contact an Expert
Because roof damage can be slight when it first occurs, it's important to contact a professional roofing contractor to inspect your home's roof and see whether damage has occurred. He should give you a rough estimate as to how much it will cost to fix.
When Not to File a Claim
It's important to know how much the repair will cost and compare the amount to your deductible. Because insurance companies tend to raise premiums after claims are filed, many professionals recommend not filing a claim unless the cost of repair is three times as much as the deductible. For example, if your deductible is $500, you shouldn't file a claim if the cost of the repair is less than $1,500. In that case, it's better to pay out of pocket instead of raising your insurance premium.
Check Your Insurance Policy
Check your insurance policy and determine whether the cause of your roof damage is covered. You may not be covered for disasters, in which case you will be responsible for repairing the hurricane damage. If you are covered for the damage, contact your insurance agent, who will send an insurance adjuster to visit your home and inspect your roof. You may also want to hire an independent public adjuster to evaluate your claim. While an adjuster from your insurance company will look for ways to wiggle out of covering your damage, a public adjuster will not, since he is usually paid a percentage of the settlement.
Often the adjuster will want to be in touch with the roofing contractor to make sure that they agree about the extent of the damage and the cost of repair. Some adjusters may give you a quote on the spot while others may take a few weeks before getting back to you. Some insurance policies may cover your adjuster's fee, so read your policy carefully to determine whether this is the case.
Tips
A contractor may offer to pay your deductible for you as a ploy to get you to hire him. While this may save you money, it may also be illegal. While you are allowed to receive benefits from the contractor, such as an advertising fee if he places a sign on your property or a referral fee if you send him additional customers, you should look closely at other benefits that he may offer before you agree. The best way to protect yourself is to contact Networx and choose one of our pre-screened, quality contractors.