I Want to Put An Addition on My House. Now What?
How to prepare for building an addition on your house. Contractors in your area.
Posted by S.E. Smith

|

May 17, 2013
---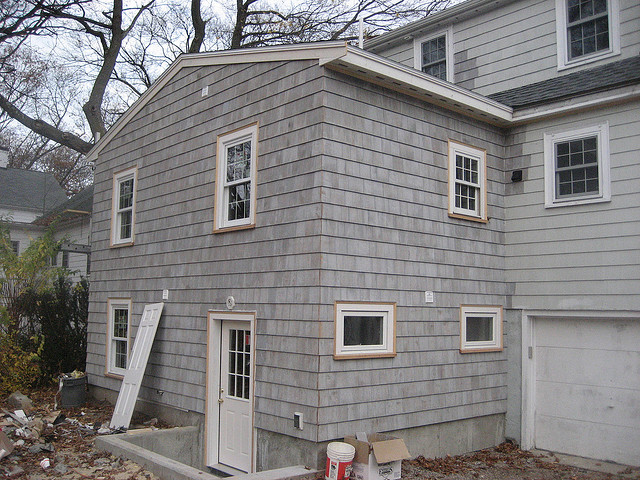 Your kids want their own rooms, you need a home office, or you're finally thinking about bumping out the kitchen to make some more room for entertaining. Welcome to wild and sometimes thorny world of additions. If you want to put an addition on your house, there are a myriad of things you need to think about before you get started, and you should definitely weigh them carefully. Mistakes with a major remodeling project like this can be extremely expensive.
If you want an addition on your house, the first thing to consider is why. Presumably you want more space, but you should outline how the new room or rooms will be used, and consider factors like added heating and cooling costs. The addition will also increase expenses for property taxes and maintenance. In other words, the expense of an addition doesn't stop when the last contractor leaves and you can finally move your furniture in and start using it.
Additions can also get snarled in red tape. You'll need to apply for building permits, considering regional restrictions like limits on the number of stories you can have, or lot line considerations; for example, you may not be allowed to build within 10 feet of the property line. These permits can start to get complex in historical districts or regions like California's Coastal Zone, where new construction tends to be tightly controlled. You might battle for six months or more just to get the permits to start building!
Costs can also be high, and you should consider how you will finance construction. Taking advantage of a home equity line of credit can be an option, but if property values decline, you may find yourself underwater on your house. And don't count on the addition to increase your property value, either. While a well-planned addition in the right market can definitely add to the value of a home, it might not necessarily pay itself off.
Depending on the type of addition, the costs per square foot can vary. Extensions that require new foundation will be more expensive, as will those that require plumbing for water or gas. Your addition will likely (we hope!) need electricity as well as connection to heating and cooling systems. And, surprise!, your heating and cooling system might need to be retrofitted if the addition increases the size of your home beyond the capacity of the existing system.
Furthermore, you're going to be living with construction for several months. That gets old remarkably quickly, even when you're doing some or all of the work yourself (sometimes especially, because you never get to leave your job site). Construction dust gets everywhere despite the best efforts of careful crews, and workers tend to arrive early and get sawing, hammering, and more in the wee hours of the morning. Prepare for a few months of grumpiness.
Now that we've totally soured you on putting an addition on your house, let's talk about some of the pluses. One, and the one that's probably most important to you: there will be more space in your house. An addition can help you expand an existing room, or add rooms such as bedrooms and home offices that make your home more functional. That's good news if you find yourself growing out of your home but you're not ready (or willing) to move to a different home.
It can sometimes be more cost-effective to build an addition than it would be to buy a bigger home. Better yet, you get to control the expansion to make sure it's precisely to your taste. If you have particular needs you want to address, they can be wrapped into the addition. Be careful here, however, and make sure the addition keeps its value. For example, if you're building a new master bedroom, add a master bathroom suite, because potential buyers will probably look for that feature.
Additions can also add considerable value when they're planned and executed well. Get ready to shell out, because this is not a remodel where you want to skimp. Spending money on an addition now can make it more valuable later, in addition to reducing the need for future construction work to fix problems. Use high-quality materials and fixtures, and make sure all the work is conducted with permits and by people who are licensed to perform it. Unpermitted additions can be a nightmare when you go to sell your home or transfer the title to a family member.
If you're thinking about an addition on your house, you might want to start with local real estate agents to get an idea of the kinds of features people look for in property for sale. If possible, tour some homes for sale to see how other people have done their additions, and take some time to compare houses of comparable value to your own to determine the best way to plan your addition. You might also want to consider asking friends about their experiences to see if they have any advice for you.
s.e. smith writes for Networx.com. Photo by Tim Jarrett/Flickr Creative Commons.
---
Top Cities Covered by our Remodeling Contractors: