How to Create Private Bedroom Space in a Small Loft or Studio
Posted by Linda Merrill

|

Dec 14, 2009
---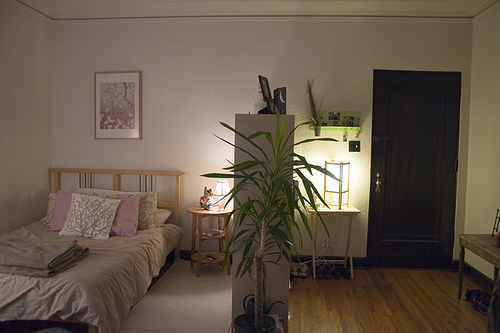 If you live in a small loft or studio apartment, you already know that privacy is a precious commodity. Many who live in studios have learned to make do with their bedroom space being part of the main living area. For some folks, this is not too bad a situation-especially those who live alone or rarely have company. But, if you are sharing a small space with a partner, or are likely to have company over, you are certain at times to wish that the bedroom could be separated from the main living area. If construction isn't an option for financial or space reasons, then it's time to think outside the box.
Some studios, especially those in older home conversions, have small alcove spaces that might not seem large enough to be used as a bedroom, but you'd be surprised what you can do with some creative thinking. A queen size mattress is approximately 60" x 80" (or 5' x 6'8") which is not a big space at all. Alcove bedrooms date back hundreds of years as they are practical and warmer than an open bedroom. Lay the mattress directly on the floor, or build a platform with storage below to utilize every available inch of space. Wall shelves and lighting can be added as well to completely trick out this tiny bedroom space. For the final touch, add drapery panels or screens to provide privacy.
For studios or lofts that have no alcove or similar architectural space available, it's harder but still possible to create a private bedroom space. The same drapes or screens used in the above example can also be used to carve out a corner space, even if it's just on one side.
Why not use the furniture itself to carve out a semi-private space in a room? A free standing bed with a can be positioned back-to-back to a sofa to create a room-within-a-room bedroom that has a little bit of privacy. Clothing, bedding and other household items can be stored under the bed in rolling storage bins that will alleviate the clutter and need for additional bureaus in the room. The key for this type of bedroom is simplicity. Side tables with drawers will provide additional storage space as well as flat space for lamps and alarm clock.
Finally, a great way to carve out a private bedroom space is to use a four-poster bed with curtains. This is the true "room-within-a-room" concept that has been around for a long time. In the old days, four-posters with curtains were used for warmth, but they also provide a great sense of privacy within a larger space. This is a great idea for open loft spaces with tall ceilings.
With a little bit of creativity, it is possible to create a private bedroom space within an open floor plan studio or loft. Plus, your design style options are nearly endless. Modern shoji screens or feminine drapery can all be incorporated into your plans for a personalized and functional design that makes the most of the available floor space.
Photo credit: Zarprey's photostream on Flickr
---