Gutter Types
Jan 01, 2011
---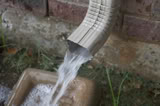 Types of this and types of that! It seems that nowadays there are choices for anything you could want to buy. The same is true of rain gutters for your home. Gutters are made from many types of material and come in many colors. When it's time for you to have your new gutters installed, or if you need gutter repair or maintenance, make sure you find a reliable contractor to install your gutters.
In this section, you will learn about the different types of gutters on the market today, including:
Gutter Construction: Sectional or Seamless
Gutters can be constructed in one of two ways: They are either made in sections or pieces, or they are constructed in one seamless, continuous piece. There are several advantages and disadvantages to the various types of gutter construction.
Sectional gutters are commonly sold in pieces. These pieces are not necessarily small, as they are often available in long sizes, many 20 feet long. The sections of the gutter are attached with snap-on pieces that connect the gutters and downspouts together. Downspouts, as pictured above, are similar to pipes, which run from the gutters down the wall of your home to carry rainwater from the gutters to a drain or the ground. The main problem that arises with sectional gutters is that leaks can occur at the seams. The advantage of seamless gutters is that you can install them yourself, and they are easy to repair, too.
Seamless gutters are the most popular since they require the least maintenance. Because seamless gutters are custom-ordered to fit your home, this means that they usually need to be installed by a professional gutter installer who will use a machine to cut or trim the gutters at your home. There are small seams with the seamless gutters, but they join only at inside and outside corners and at downspout outlets. Seamless gutters are available in aluminum, galvanized steel or copper.
---
Top Cities Covered by our Roofers: