Jan 01, 2011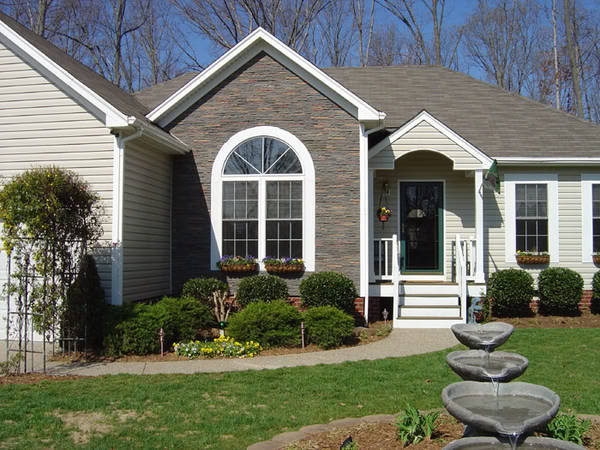 Photo credit: Advanced Rock Technologies
Not only is fake brick siding an appealing alternative to natural brick, but it's also a cost-effective way to add traditional charm to your home. Unlike regular brick, fake brick siding does not come with complications and precautions.
What is Fake Brick Siding?
Essentially, fake brick siding is a type of synthetic paneling that can be purchased and added to any home for a fraction of the price of regular brick. It is often made of polyurethane. This type of siding comes in a variety of colors and textures so that it looks exactly like brick, but it won't chip or crack in the same manner that regular brick does.
Like other sidings, fake brick siding is also easy to install and maintain. While you must hire masons to install traditional brick, fake brick siding can be installed on your own or with the help of a general contractor. This type of siding can also be installed over any existing material that is currently surrounding your home.
The best part about this type of paneling is that you only need soap and water to clean fake brick siding. You'll also discover that simulated brick siding won't fade with sunlight or crack when accidentally impacted. Regular brick can be expensive to repair once it has cracked, but fake brick siding can be repaired simply and easily.
Regular brick is often expensive due to its weight. Since traditional brick tends to come from distant places, the cost of transporting this type of brick can be expensive. Contrastingly, simulated brick siding is lightweight, which means that transporting this type of siding is relatively inexpensive.
Simulated Brick Upkeep
One of the best features about faux brick is the fact that this material won't mold or mildew. This means that fake brick siding is virtually worry-free. Once you have installed faux brick siding, all you have to do is maintain it by washing it once per year.
Simulated brick siding is ideal for almost every climate. If your home needs updating, then simulated brick siding may be the right material for you. While you can purchase traditional brick, this type of home addition will often taken many months to complete, which is not the case with fake brick siding.
When you need a quick home fix that won't empty your savings account, turn to fake brick siding. You won't need to hire a mason or purchase heavy bricks, but you'll still get the same desired brick look. While traditional brick has its charms, it's hard to beat the versatility and style of simulated brick.
Author Harriette Halepis is a writer based in Montreal. She specializes in DIY and modern interior design. Ask Harriette for advice on anything from vegetarian Canadian bacon to adding mod accents to your home décor.