Does a Roofer Need a License?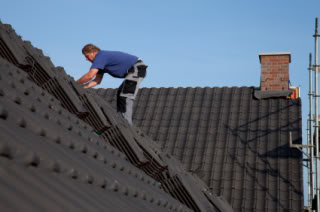 If you're looking to hire a roofer or roofing company, it's critical to choose one who is licensed. Whether you wish to have your roof inspected after a storm or your roof is in need of repairs, it is essential that you choose a qualified, licensed roofing contractor. This is because roof work can be dangerous. If an unqualified person works on your roof, he made do more harm than good, and if he's not licensed and insured, you could be liable is he's injured.
Licensing: It's the Law
In most states, a roofer may work only if he is licensed. While the licensing procedure varies from location to location, the core requirements are similar. However, in some areas, like Newark, New Jersey or Austin, Texas, for example, roofers are licensed on the city level as opposed to the state level.
If you live in an area that requires roofers to be licensed, it's against the law for anyone to perform work on your roof without one. If you're unsure whether or not your state requires licensing, visit www.contractors-license.org.
Knowledge
The procedure of obtaining a license involves passing one or more tests and proof of formal training or a certain amount of on-the-job experience. The material covered in the tests includes safety requirements, construction laws and more. As a result, a licensed roofer will have more knowledge of the field, such as tools, techniques and materials, and will be able to provide professional workmanship.
Insurance
Most states require licensed roofers to be bonded and insured. Having your roofer bonded means the roofer has secured funds that are available to pay for damages if you should take him to court and win. Having insurance means that if a worker is injured on the job, he will go to the roofing company for compensation instead of to you.
Additional Tips
Once you have chosen a roofer who is licensed, make inquiries about his reputation. Listen to the recommendations of your friends and family members. If no one is recommended to you, ask the roofer for references and be sure to contact them. If you need complex, skilled work done, ask the roofer for previous job locations and visit them. See what condition the repairs are in and ask the homeowners what they think about the quality of the work.
If you're having a new roof put on, the roofer should always provide a warranty. If you need a small section repaired, discuss warranty options with the contractor. Also, make sure to get a contract in writing that specifies all the costs involved. Aside from labor and material costs, make sure that the contract includes cleanup. You don't want to be left with a dirty yard when the roofing work is done, and have to call a landscaper just to put things back in order.
Because your roof is so important, you shouldn't cut corners when selecting a contractor. Always hire a licensed professional, and be sure to ask around about his reputation and past jobs.
Top Cities Covered by our Roofers