The Many Uses of Cinnamon for Your Home
Posted by Networx Team

|

Jan 01, 2011
---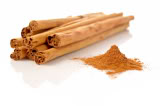 Cinnamon sticks and cinnamon powder: Both can make your house smell great!
A wise old man once told me, "A clean life is a long life." I tell this to my nine-year-old son all the time; he has a habit of keeping a messy room (which sometimes includes some strange odors, too). His room would definitely benefit from a few cinnamon sticks! Part of having a clean life in your home is ensuring that it smells good. There are numerous ways to get your home smelling good, from using scented cleaning products to potpourri, plug-in deodorizers, sprays and more. But one of the most overlooked methods for getting a great scent for your home is the use of cinnamon. Not only is using cinnamon easy, simple and natural, but it is also inexpensive.
Cinnamon (its scientific name is Cinnamomum verum) is actually a tree and the bark on the tree is what is used as a spice. Cinnamon has been used for many centuries for aromatic purposes. There is even mention of cinnamon in the Old Testament. Cinnamon has also been recognized for its amazing healing benefits for numerous ailments, partially due to its antifungal and antimicrobial properties. This article will focus on some helpful household uses for cinnamon.
After you are finished cleaning, there are some great ways to use cinnamon and essential oil of cinnamon to keep your home smelling great. The smell of cinnamon is often associated with the feelings of warmth. Many report that cinnamon makes them feel warm, safe and protected. I don't think that there are many people who don't like the aroma of fresh cinnamon buns baking in the oven!
Did you know that cinnamon can also be used as an inspect repellent? Recent studies have shown that pure cinnamon oil is particularly effective in killing mosquito larvae, as well as acting as an all-purpose insect repellent. By adding a few drops of cinnamon oil to your favorite lotion or sunscreen, you can make your own natural and safe insect repellent. There have also been studies which report that ants do not like cinnamon and will stay away from it. Try placing some cinnamon sticks in problem ant areas in and around your home to get rid of an ant problem. If your ant problems still persist, you may want to consult with an exterminator.
Here are a few ways you can put cinnamon to use in your home:
1. Potpourri: There are different types of potpourri you can make with cinnamon, from stove top/wet potpourri to dry potpourri in a dish. For stove top potpourri, just boil some water in a 4-quart pot (or the size of your choice) and add a few tablespoons of ground cinnamon or 4-5 cinnamon sticks. You can even try adding some apples and making your potpourri into a compote or apple cider drink. This stove top potpourri method serves two purposes: It banishes odors and replaces them with a deliciously homey fragrance while providing you with a delicious drink or dessert. Check out this recipe for Cinnamon Pears with Strawberry Sauce. For dry cinnamon potpourri, just sprinkle a few drops of essential oil of cinnamon on any dry potpourri and place in a shallow bowl on a radiator or on top of the fridge. This type of potpourri works great for deodorizing a bathroom too.
2. Room freshener: For a quick and super-simple deodorizer, place a few tablespoons of ground cinnamon in a bowl and place it on a table, coffee table or shelf.
3. Light bulb diffuser: Place a drop of essential oil of cinnamon on a cool light bulb. When you turn on the lamp, the scent will be gently diffused throughout the room.
4. Room spray: Combine a few drops of essential oil of cinnamon with water or vodka and spritz the mixture in any room to dispel odors.
6. Kitchen incense: Sprinkle a few grains of ground cinnamon on your electric stove top burner. When you turn the burner on, the lovely scent of toasting cinnamon will waft through the kitchen.
7. Homey trick for candles: Apply a few drops of essential oil of cinnamon to any beeswax taper or other candle before you burn it.
8. Sweet decoration: Anchor several cinnamon sticks in whole cloves or dried cranberries in a glass: this makes a pretty and sweet-smelling decorative element.
9. Moth repellent sachets: Break 4 cinnamon sticks and combine with 1/2 cup of whole cloves and 1/2 cup whole black peppercorns. Fill small squares of fabric with a tablespoon of this mixture, tie shut and hang in your closets.
10. Ant repellent: It may not be a scientifically proven fact, but many homeowners have had success warding off ants with cinnamon sticks. Place some by your entry doors and in the corners on the floor in your kitchen and it should work to keep the ants away. Read more about ways to prevent ant infestation.
---
Top Cities Covered by our Cleaning Services: