Choosing the Right Exterior Wood Trim
The lumberyard is full of options. We provide a cost-benefit analysis to help you pick the right wood for your home's outside.
Posted by Caryn Colgan

|

Jan 13, 2010
---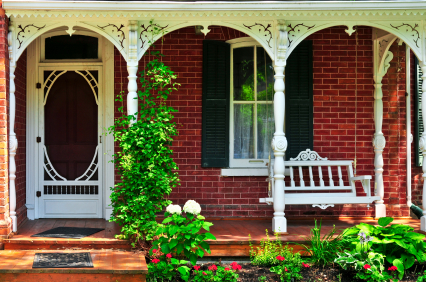 The right exterior wood trim can take your home's curb appeal from drab and mundane to eye-catching and desirable. Because it is exposed to the elements, the wood you use must be able to withstand exposure to the sun, heat, cold, rain and snow, plus it needs to be resistant to fungus and insects. Below is an overview of the various woods recommended for outside wood trim and a cost-benefit analysis of each type of wood. These costs are only for the wood; you will have to figure in labor and design costs separately.
Western Red Cedar
Of all the woods for exterior applications, western red cedar is usually a top choice. It resists decay and insects. Additionally, it can be stained or painted. Its natural look works well for fascia boards, corner boards and trim around windows and doors.
Western red cedar is available in both clear and knotty grades. The clear grade means that the boards possess fewer of the natural knots and other blemishes inherit with natural wood products. Knotty grade boards are used for a more rustic, earthy appearance. Knotty grade is less expensive than clear grade. Rough-cut 2-inch red cedar runs around $4.45 per board foot.
Redwood
California redwood is one of the most popular maintenance-free woods for exterior building purposes. It naturally resists insects, rotting, splitting and shrinking. It is ideally suited for deck construction and exterior trim. The California Redwood Association recommends not applying varnishes, oils or polyurethanes to redwood.
Because it is naturally strong and durable, it is easy to maintain with occasional cleaning. Quarter-cut redwood costs about $4.75 per board foot.
White Oak
When choosing oak for exterior trim, be sure to buy white oak as opposed to red oak. Red oak should only be used for interior trim, since it is easily damaged by water. It can be painted or stained, but it will likely require maintenance every few years. A 1-inch thick board will cost about $3.60 per board foot, while a 2-inch-thick board will cost about $5.80 per board foot.
Southern Yellow Pine
A common trim board is pressure-treated southern yellow pine. It is inexpensive, but it tends to warp. Unlike cedar and redwood, southern yellow pine is less stable and it is food for wood-eating insects. Therefore, it requires more upkeep and maintenance. It also requires more nails during installation to retain the desired shape.
Avoid any boards with knots, since these can leak tannins and stain the paint applied to the trim - unless a quality primer has been applied first. While the initial investment to install this trim is less, you will want to factor in the time and cost to maintain this trim option. It may cost more in the long run than the cedar or redwood options. Rough-cut, 1-inch thick boards cost about $3.40 per board foot.
If the woods blend with your home's style, redwood and cedar are the maintenance-free options. While they cost more up front, the will provide years of worry-free beauty.
---
Top Cities Covered by our Carpenters: