Best Composite Siding Choices
Experts talk about composites.
Posted by Steve Graham

|

Sep 28, 2010
---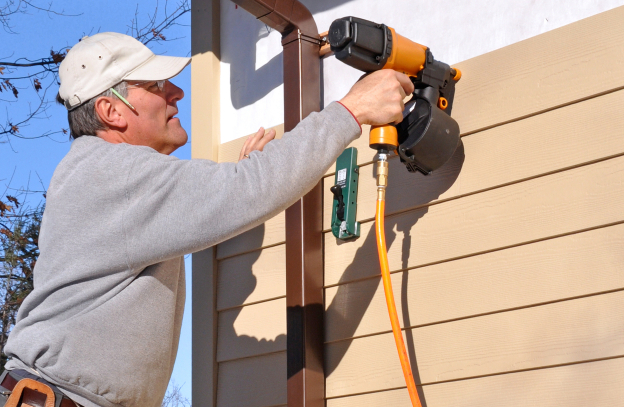 Gary Cohoon has been selling and installing siding for more than 30 years. However, he believes much of his knowledge will soon become obsolete.
Cohoon owns Cherokee Home Exteriors in the Atlanta area. About two years ago, he started selling a new composite siding product that's "going to take over the market," he said. The new material is a mix of polymers and wood fibers that requires special training and a new installation method unlike those he has completed for decades. However, once installed, Cohoon said it is the best option on the market short of brick and real wood siding, which can both be prohibitively expensive for most homeowners.
Cohoon said the new polymer-wood hybrid is more attractive and sturdy than vinyl siding, but more durable and inexpensive than wood. He also claims new composites have advantages over fiber-cement and other composite siding options. However, other siding dealers and installers still tout fiber-cement as the best composite option.
Both polymer-wood hybrids and fiber-cement siding products help improve the reputation of composite siding. Various composite siding products have wrapped homes only to swell, attract mold, delaminate and have other serious issues. Georgia-Pacific, Louisiana-Pacific, Masonite and other manufacturers were targets of large, successful class-action lawsuits.
Homeowners need to make sure they get quality products installed by an experienced professional. A lousy siding job can lead to expensive and dangerous problems.
Wood-Polymer Composites
Cohoon compared the new wood-polymer options to Trex decking for home exteriors. Both products are a mix of wood fibers and PVC plastic. The siding is sold primarily under the Alside Revolution brand, but Cohoon predicts that most siding manufacturers will develop similar competing products.
Revolution siding is made with recycled wood, and is currently available in nine colors ranging from white to red "Tuscan Clay." Alside claims independent lab tests showed Revolution siding can withstand a Category 5 hurricane, and is more impact-resistant than fiber-cement or real cedar.
Contractors who install Revolution siding need to complete an Alside training course to learn a construction system that is different from every other siding installation, Cohoon said. The siding panels stack atop each other and attach with nail clips. The system has no face nails or caulking. Both are major causes of problems with other types of siding.
Cohoon said the installation system has a steep learning curve, but then it is nearly foolproof.
Fiber-Cement Alternatives
Chris Short is the manager of window and siding sales at Quality Roofing and Siding in Schenectady, N.Y. His firm sells James Hardie fiber-cement siding, and it is the second biggest seller after standard vinyl siding.
Short said his company started distributing Hardie products after trying other composites and not seeing as much success with results. He said the fiber-cement siding lasts for many years, and is available in a range of attractive colors and styles.
Cohoon is less keen on fiber-cement. He said the product may seem inexpensive, but the costs of installation and maintenance for most fiber-cement products add up over time. The siding must be primed and painted upon installation, then every five to seven years throughout the life of the home.
He said wood-polymer composite panels cost more than fiber-cement, but the lifetime costs are lower.
Wood-polymer blends and fiber-cement panels are the best and most popular composite siding options, according to some experienced industry experts.
---
Top Cities Covered by our Remodeling Contractors: