An Intro to Barn-Style Garage Doors
Is this hot trend a good choice for your garage?
Posted by Caryn Colgan

|

Feb 02, 2010
---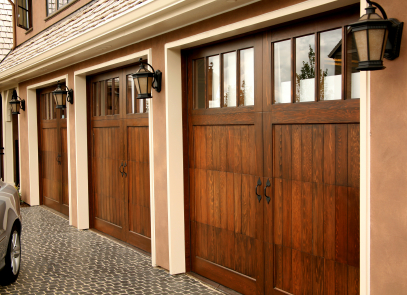 Do you have a Craftsman-style home or carriage house that needs a fetching new garage door? If so, consider installing a barn-style door to complement the country feel of the property. Is your home a near-perfect copy of many of your neighbors' homes? Barn-style doors will likely set any property apart from cookie-cutter neighbors. Add instant curb appeal with this custom-looking feature. No longer just for the farm, barn-door style garage doors are a hot trend for urban and suburban communities. Garage doors can be a relatively inexpensive way to enhance curb appeal or give property a facelift.
Available in roll-up, sliding and swing-open varieties, barn doors can be custom fit for new construction as well as retrofit for older homes. To preserve the authentic barn door appearance, some manufacturers make doors that appear to slide but actually roll up.
Wood
Wood adds to the overall authenticity of the barn-door look. Wood can be painted or stained to either blend with the existing architecture or add a pop of color. Usually, homeowners want to draw the eye away from the garage door. However, interesting wooden barn doors can quickly become a key feature of an otherwise bland property.
While wood is beautiful and natural, it requires more maintenance than steel options. Prone to fading, sagging and cracking, wood doors must be painted or stained every couple of years. Wood is generally not a good option in wet climates since wood attracts undesirable insects and can rot.
Steel
The most common material used in barn-door style garage doors is steel. Because it is durable and strong, steel doesn't crack, rot or sag. Steel garage doors require little or no maintenance. As for looks, designers and homeowners will be pleased with the variety of options available. Whether you're looking for a barn door or carriage house door, steel can be embossed in the customary X-style - or any other design. Glass insets can be added to allow light into the space.
Another advantage to steel doors is the ability to add a layer of insulation. If the doors are to be added to a living space, such as guest quarters, premium insulated steel doors would be a better option than wood ones.
Homeowners can easily enhance the value of their property by adding barn-style doors to their garage or carriage house. For less time and money than it would take to remodel the exterior of the home, property owners can add the unusual and trend-setting barn door. Especially important during times of slow real estate sales, adding distinctive, eye-catching touches to a property can set it apart from the herd and encourage a sale.
---
Top Cities Covered by our Garage Door Pros: