Types of Flowers and Plants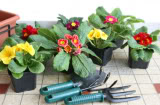 You may have heard the terms annuals, perennials, bulbs, shrubs and biennials. For seasoned gardeners, these terms don't seem confusing. But for those just getting started gardening and planting, these terms can make walking into a gardening store or trying to plan your garden into a stressful experience. The flower and plant type guide below will help you understand the different types of plants and flowers and help you plan and choose the best flowers for your garden... and hopefully help lower the stresslevel!
Annuals
Annuals are plants and flowers that last for one year and then die out, such as impatiens. Many annuals are large-blooming and grow well on proper soil. Petunias are one kind of annual that can grow well on any soil. The best advantage associated with annuals is that you can change them each year. So if you like changing your garden design each year, then annuals are a great option. Annuals are also good for hanging baskets and container gardening.
Perennials
These flowers come back year after year. Tulips are probably the most popular perennial. Each year they sprout up in the spring and make their beautiful presence. These are a convenient option for gardening because they don't need to be replanted each year. Water lilies and geraniums are both perennials. Most perennials grow best in slightly acidic soils (pH 6.5 to 7.0) and prefer six to eight hours of sun per day.
Biennials
Biennials are plants that take two years to grow from seed to fruition. In the first year, the plant grows leaves, stems and roots (vegetative structures), then it enters a period of dormancy over the colder months. Examples of biennial plants are parsley, Lunaria, silverbeet, Sweet William, colic weed and carrot.
Shrubs
Shrubs are woody plants smaller than trees, having a short stem with branches near the ground. There are two main types of shrubs: flowering and ornamental. Many shrubs look like common bushes. Shrubs used for gardening generally include broad-leaved plants, though some smaller conifers, such as Mountain Pine and Common Juniper, are also shrubby in structure.
Bulbs
Bulbs are known for their amazing blooming abilities. Bulbs are perennials and are low maintenance. Tulips are considered a perennial bulb and so are daffodils. Flower bulbscome back each year, after being dormant over the winter months. Many bulbs are hardy and reliable, meaning you can "forget" about them... and they'll present themselves every spring. Just like perennials, you can plant bulbs according to flowering times for aconstant array of color. For a garden that blooms all season, plant a number of bulb types with succeeding flowering times. Learn more at Lawn-and-gardening-tips.com.
Looking for someone else to do the gardening and planting? Finds killed landscapers from your area to help you.