10 Flowers to Plant Right Now
Make your fall garden bloom before and after the first frost.
Posted by Jordan Laio

|

Sep 14, 2010
---
With proper planning, there are an array of beautiful fall-blooming perennial and annual flowers that you can grow from seed. However, if you're like many people you probably prefer the convenience of buying plantings at a nursery on an as-need basis. In the fall, your local garden center should have a selection of cool-weather loving flowers ready to take home.
Some will tolerate frost and last into the snowy months, while others, like cosmos and marigolds, live fast and die young with the first frost of winter. Often you can find these frost-sensitive flowers at bargain prices since their season is essentially over, and in that case it can be worth it for two additional months of beautiful flowers. Here is a list of fall flowers that you can plant right now to keep your yard looking great.
Asters
Asters produce pretty daisy-like flowers in a range of colors and, depending on the species, are frost tolerant. Don't plant annual asters in the same place year after year in order to avoid diseases. Preferably plant in full sun, or partial shade in moist, well-drained soil.
Cabbage and Kale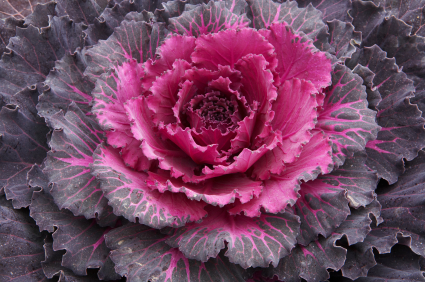 While not actual flowers, ornamental cabbages and kales have been bred to look colorful and eye-catching, like flowers. They are definitely attractive and can tolerate freezing temperatures, keeping up appearances into the snowy months. Their colors may not fill out until the plant has experienced a few frosts. Plant in sunny location with moderately moist soil.
Calendula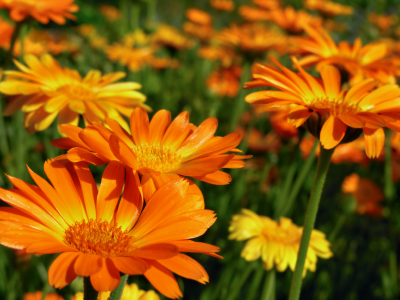 A cheery, golden addition to the fall garden with medicinal qualities, calendula flowers grow up to 4 inches across and come in a variety of shades. They are easy to grow and help deter some garden pests and will tolerate light frosts. They prefer full sun and can tolerate partial shade.
Chrysanthemum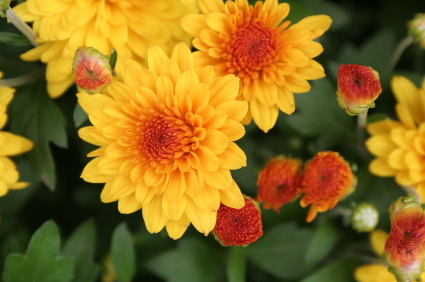 Mums are very easy to grow and come in a vast variety of color and size. They can tolerate light frosts so they compliment the fall garden. Autumn varieties prefer full to partial sun and moist soil.
Cosmos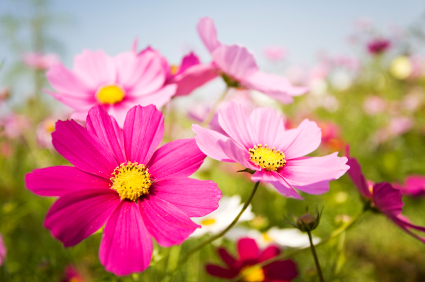 Cosmos are very pretty flowers for the fall but cannot tolerate frost. They are drought tolerant and, depending on the variety, will grow from 1 to 3 feet tall. Prefer full sun.
Daisies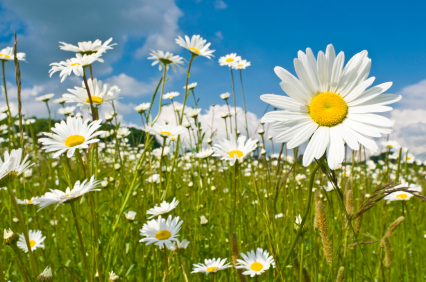 Another beautiful and easy to grow flower, daisies look best when planted in groups or clumps. They are rarely affected by pests or diseases and are frost tolerant. Plant in rich, well-drained soil with plenty of sunshine.
Marigolds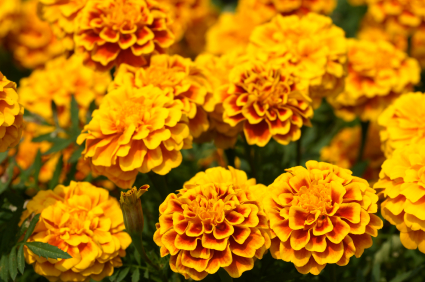 While not frost tolerant, marigolds come in beautiful fall reds, golds, and yellows. They will last until the first frost. Generally, marigolds are considered good companion plants for keeping pests away from vegetable gardens. They prefer full to partial sun and rich and well-drained soil.
Pansies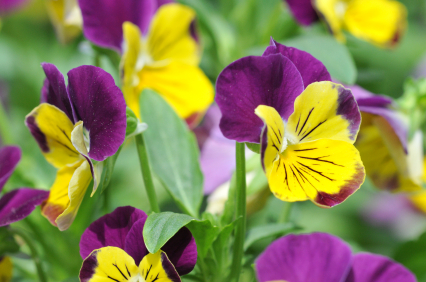 Pansies are one of my favorite ornamental flowers. They have a delicate appearance and come in many different color combinations. They are low maintenance and can even survive past the first frost. They prefer full to partial sun and moist soil.
Petunias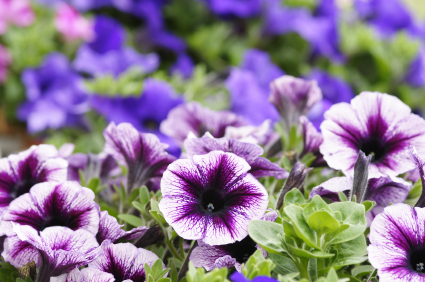 Trumpet-shaped and colorful, petunias are a well-liked flower. Violet-flowered petunia is frost tolerant, but other types will last until first frost. They prefer full sun but can tolerate partial shade.
Snapdragons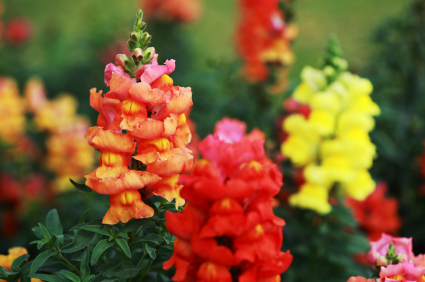 A front yard favorite, snapdragons produce an abundance of flowers in bright colors and enjoy cool fall weather. They can tolerate a heavy frost. They grow 1.5 to 3 feet tall and enjoy full sun.
These flowers will keep your garden looking fresh for the next couple months. As an aside, the fall is also prime time to start thinking about spring flowers. Plan ahead and plant spring bulbs in October.
---
Top Cities Covered by our Landscapers: